Aquaculture:
Soc Trang Province initially plans to farm brackish water shrimp in 49,700 hectares for its 2019 crop. The province also targets an output of 138,500 tons and minimizes its loss ratio. To achieve this target, farmers in the province are encouraged to apply biotechnology and automation into their production of postlarvae, feed, and shrimp processing.
To ensure productivity and quality of the 2019 shrimp crop, over the past months, farmers in Soc Trang Province have been preparing for a new stocking season.
According to authorities, the whole province of Soc Trang has stocked 13,047 hectares of brackish water shrimp out of the initial 49,700 hectares it plans. Of which, whiteleg shrimp is stocked in ​​9,768 hectares, and black tiger prawn is farmed in ​​3,279 hectares. The total area of loss, however, is about 441 hectares. The total harvested area is estimated at 1,348 hectares with a production of 8,460 tons of shrimp.
Processing, Import and Export:
In 3 days, from May 7, 2019 to May 9, 2019, businesses from Vietnam attended the 27th annual Seafood Expo Global/Seafood Processing Global in Brussels, Belgium. At the expo, Vietnamese businesses had a motto of focusing on product quality, sustainable development and taking advantages of the exhibition to help Vietnamese seafood grow at the EU market.
At this year's exhibition, 25 booths of aquaculture businesses from Vietnam introduced a variety of seafood products, such as black tiger prawn, whiteleg shrimp, pangasius (Tra fish), tuna, squid, and octopus that are both frozen and processed.
Vietnam's seafood export to EU in 2018 reached 275.8 thousand tons with a value of $1.4 billion. The ratification of the European Union − Vietnam Free Trade Agreement (EVFTA) is expected to help increase the export of seafood products from Vietnam to Europe thanks to tax reduction.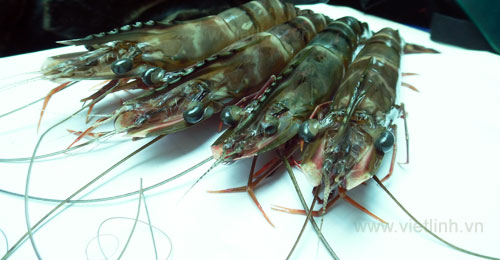 Livestock:
In Dong Nai Province, African swine fever virus outbreaks are identified in 2 districts, Nhon Trach and Trang Bom. The outbreaks often appear in small households.
Authorities have tackled the outbreaks by destroying infected pigs and establishing quarantine stations. So far, the province has installed 23 quarantine stations to prevent and control the outbreaks.
Due to the influence of African swine fever virus, in recent years, farmers in Dong Nai Province have reduced the number of pigs farmed. The whole province has only about 2 million pigs, which is a decline of about half a million pigs compared to the time when the epidemic has not appeared.
Plantation:
Statistics of the Department of Crop Production said that in 2018, the Central Highlands region of Vietnam had 622,286 hectares of coffee; 91,422 hectares of pepper; 81,035 hectares of cashew and 246,811 hectares of rubber.
As climate change becomes more influential, the lack of water for irrigation in dry season is a challenging issue. At a recent conference organized by the Directorate of Water Resources, experts and businesses suggested that the application of water-saving, advanced irrigation systems along with an effective exploitation of irrigation works are required. These systems are needed for a sustainable development of cultivation in the Central Highlands, especially for perennial industrial crops with high economic value.
Fruits:
Vung Liem District, Vinh Long Province maintains many key production models that focus on product quality and economic efficiency. The models are implemented in 1.282 hectares of green pomelo, 1,046 hectares of durian, 1,100 hectares of mango, and 933 hectares of Sanh orange. Of the total area of ​​key fruit trees, there are about 2,289 hectares bringing an average profit of VND200 million/hectare/year.
In order to continue the development of major and high-value crops, the district continues to provide scientific and technical support for farmers. The district also supplies high-quality seedlings and helps farmers replicate successful models of fruit orchards or find outputs for products.
Farmers, Agriculture, Countryside:
People in a small hamlet along Hau River in Binh Long Commune, Chau Phu District, An Giang Province have long been famous for their traditional careers of selling bat droppings. The seniors here do not remember how they stated this job. But thanks to that, nearly a dozen families in the region are able to earn their living. The name "Bat Hamlet" is also originated from this special career.
According to local farmers, to attract bats to stay in houses built by humans, they need to have special secrets. For example, places called "homes" for bats must be carefully located. They need to be quiet and especially have no falcons and snakes, the two enemies of bats.
Living and Environment:
On May 3, 2019, in Con Dao National Park (Ba Ria-Vung Tau Province), the Management Board of the park released two rare sea turtles back to nature. The turtles weigh 10 kilograms and 5 kilograms each.  
Of the two, one of them is a hawksbill sea turtle (scientific name Eretmochelys imbricata), and the other is a green sea turtile (scientific name Chelonia mydas). They are both endangered species of the Red List of Vietnam.
Pet, Flowers and Ornamental Plants:
For 11 years pursuing the career of growing orchids, Nguyen Van Hoai (Hiep Hoa Commune, Bien Hoa City, Dong Nai Province) has farmed and traded orchids at the same time in a flower shop. Nguyen set up 2 orchid gardens in Binh Duong Province, 1 orchid garden in Cam My District, and 1 orchid shop following the model of a small orchid garden in Bien Hoa City.
In addition to Vanda orchids, Nguyen is investing in a 4-hectare orchard of foxtail orchids (Rhynchostylis gigantea) in Song May Commune, Trang Bom District. For each farm, Nguyen focuses on investments in infrastructure, planting process, and technical staff. Loyal customers of Hong Minh Quang orchids that Nguyen grows often buy his flowers because of their beauty, duration, and creative flower pots.
By Sonia LV - Copyright © VietLinh