Aquaculture:
According to the agricultural sector of Quang Tri Province, by the end of 2018, the area of ​​shrimp farming in this region reached 933 hectares, including 450 hectares of black tiger prawn and 483 hectares of whiteleg shrimp. The output reached 4,532 tons; and the production value was estimated at over 679.8 billion of Vietnamese dong. In 2018, cities and districts of the province implemented 10 different models of shrimp farming. For example, there were models such as 2-phase shrimp farming applying Biofloc technology, whiteleg shrimp breeding according to VietGAP standard, or intensive whiteleg shrimp farming using probiotics. These models brought high efficiency. The average yield could reach 11-25 tons/hectare, and the average profit was from 500 million to over 1 billion of Vietnamese dong.
According to the plan, the agricultural sector of the province is expected to keep a stable area of ​​933 hectares of shrimp farming in 2019. It also aims for an output of 5,000 tons with a production value of 750 billion of Vietnamese dong. The province also plans to establish cooperative groups, shrimp-farming communities, farmers' clubs as well as promotes the application of models using high-tech such as 2-phase shrimp farming according to Biofloc technology, or raising whiteleg shrimp in greenhouses.
Processing, Import and Export:
As the market continuously changes, in order to achieve the target of reaching an export turnover of $4.2 billion of shrimp, many export and processing businesses propose a joint effort of the whole industry. There is a need to accelerate action programs that are synchronous, practical and specific. As well, inspections of input materials for shrimp farming need to be strengthened.
Specifically, authorities must promote, check and prevent preparations that should not be used in shrimp farming, especially banned antibiotics. There is a need to have long-term, drastic and thorough measures to manage such issue. Besides, the shrimp-farming industry must standardize post-larvae supply facilities and feed factories according to market requirements to create a synchronous value chain for Vietnamese shrimp production and increase its competitiveness in the market.
Livestock:
At the end of 2018 and in early 2019, Si Ma Cai District in Lao Cai Province has expanded the model of raising white horses in some of its communes.
Accordingly, there are 68 groups of households registering to participate in the model. Currently, the white horses are growing and developing well. It is known that people in Si Ma Cai District have a long tradition and extensive experience of raising white horses. However, the number of horses that they raised was not large. Their farming was often interrupted in the past ten years. Currently, Si Ma Cai District has over 500 horses. Of which, there are about 100 white horses.
The species of white horse is easy to take care of. After about 2-3 years of care, horses can be sold. Its high-quality meat can be used for foods or medicines. White horse brings an economic value that is 4 - 5 times higher than that of conventional horses.
Plantation:
Luong The Hiep (Ea Hiao Commune, Ea H'leo District, Dak Lak Province) intercrops coffee with other trees for high economic efficiency. On an area of ​​5 hectares, he intercrops 1,000 coffee trees with 1,000 pepper trees, more than 200 macadamia trees, and about 400 Booth avocado trees. In 2018, his family earned more than 3 tons of coffee, 1 ton of pepper and 3 tons of macadamia with a total income of more than 400 million of Vietnamese dong. In addition, with his own knowledge, Luong also directly grafts macadamia and reproduces it to sell to the market. In a near future, Luong intends to add to his garden 200 more macadamia trees.
From the success of Luong's farming model, many households in Ea Hiao commune also shift to intercrop macadamia with pepper and coffee. This model can create more income sources and save farmers' effort and caring time. Intercropping macadamia with coffee and pepper brings obvious economic efficiency as it requires less care and less fertilizer than other crops.
Fruits:
The first 8 tons of mangoes from Dong Thap Province was exported to the U.S. Vietnamese mangoes are now exported to 40 markets around the world such as Europe, China, Korea, Japan, Australia, and New Zealand.
Mango is also the sixth fruit of Vietnam licensed to be exported to the U.S. market, only after dragon fruit, rambutan, longan, litchi, and star apple.
Dong Thap Province has the largest area of ​​mango the Mekong Delta. It has over 9,300 hectares of mangoes with the output of nearly 127,000 tons. The areas of mangoes in this region are concentrated mainly in Cao Lanh City and Cao Lanh District.
Farmers, Agriculture, Countryside: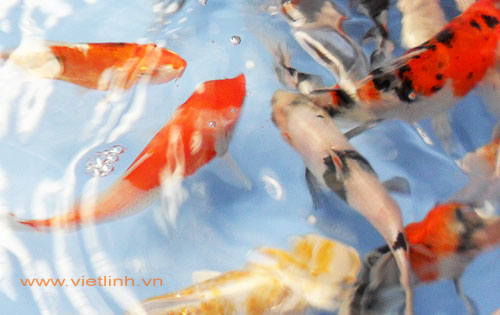 Ho Chi Minh City is focusing on developing 6 key agricultural products, including vegetables, ornamental plants, dairy cows, pigs, brackish water shrimp, and ornamental fish. This plan is a good direction that can contribute to the socio-economic growth of the city.
In order to promote the development of key agricultural products, focus on high-tech production, and meet VietGAP standard's requirements, Ho Chi Minh City will have many preferential policies to support farmers, strengthen training programs for them, as well as organize connections between farming households and cooperative groups to produce and consume products.
Living and Environment:
Currently, Ca Mau Province has 43,563 hectares of dry forests. Of which, about 20,000 hectares are alarmed as extremely dangerous areas that can catch fire, and over other 15,000 hectares are warned to be in dangerous zones.
Due to hot and dry weather, along with a temperature that is always above 35ºC, many forest areas in Ca Mau have completely drained or lacked of water.
Pet, Flowers and Ornamental Plants:
Growing flowers and ornamental plants in Hanoi has become a profitable and stable profession. The average income value of flowers is 3 to 20 times higher than rice cultivation. It is at about 200-500 million/hectare/year.
In districts and communes including Bac Tu Liem, Dan Phuong, Me Linh, Phuc Tho, and Thuong Tin, many models such as planting flowers with high-tech, experimenting new or high-quality varieties, planting flower pots (roses, orchids) or branches (rose, lily, gladiolus) bring a turnover of 500 million to 1 billion of Vietnamese dong/hectare/year. There is even a model applying high-tech that brings an income of 3 to 4 billion of Vietnamese dong/hectare/year, such as a model applying high-tech to grow moth orchids in Dan Hoai – Flora Cooperative (Dan Phuong District).
By Sonia LV - Copyright © VietLinh