Aquaculture:
These days, people farming whiteleg shrimp on sand in Trieu Phong District, Quang Tri Province are harvesting their last batch of shrimp. This year, the weather is favorable for farming so shrimp grows fast. Even though the selling price is not as high as in previous years, thanks to high productivity, many farmers still earn high profits.
Different from shrimp farming in ponds from April to August every year, for whiteleg shrimp farming on sand, the main crop starts from July to September.
This year, the implementation of synchronous solution for farming helps raise the quality of shrimp. Some of the solutions are applying measures for food safety, using microbiological technology, as well as limiting antibiotics and chemicals in shrimp breeding.
According to farmers, the price of shrimp this year compared to other years is not high. Before the Lunar New Year, shrimp type 50 shrimp/kilogram was sold at VND200,000/kilogram, but it is now only at VND160,000 - 170,000/kilogram.
Processing, Import and Export:
Leaders of the Vietnam Association of Seafood Exporters and Producers (VASEP) shared at the seminar "Promoting the export of major agricultural and seafood products to China" said that China is now the fourth largest import market of Vietnamese seafood. It has a stable import growth, from $600 million in 2014 to more than $1.21 billion in 2018. Of which, swai (Tra fish) has the largest growth with nearly $529 million (up $28.7 million compared to 2017).
In particular, many Vietnamese agricultural and seafood products have been sold online on Alibaba (the largest online shopping system in China). This step confirms the quality of Vietnamese goods with Chinese consumers.
Livestock:
According to the Vietnam Department of Animal Health, by the end of March 7th, African swine fever virus has occurred at 333 households in 51 communes, 22 districts of 10 provinces and cities in Hung Yen, Thai Binh, Hanoi, Hai Phong, Ha Nam, Hai Duong, Thanh Hoa, Hoa Binh, Dien Bien and Thai Nguyen. The total number of infected and culled pigs is over 6,500.
Earlier, on the morning of March 4th, Prime Minister Nguyen Xuan Phuc chaired an online conference to deploy urgent solutions to control African swine fever virus. The virus is currently in danger of spreading rapidly on a large scale. It has a great impact on livestock development, social security and environment.
Plantation:
After three months of cultivating South Korean chili pepper on ​​5,000 square meters, households in Ninh Thuan Province have harvested 10 tons of products and earned VND70 million. Korean chili pepper is suitable for farming with climate and soil conditions in Vietnam. Thus, each tree gives a lot of fruits with bright red color and delicious look. The chili pepper itself is large, weighing about 30 fruits per kilogram. It can be sold for VND11,000 per kilogram.
Korean chili pepper has good quality, spice, and especially high economic efficiency. They are preferred by farmers for farming and development. In addition, the plantation is a project between Ninh Thuan Province and a South Korean corporation to develop local agriculture in 2014 with a budget of about $1.8 million. The South Korean partner supports capital, supplies seeds with experts' consultation of its country to guide Vietnamese farmers on cultivation and farming techniques.
Fruits: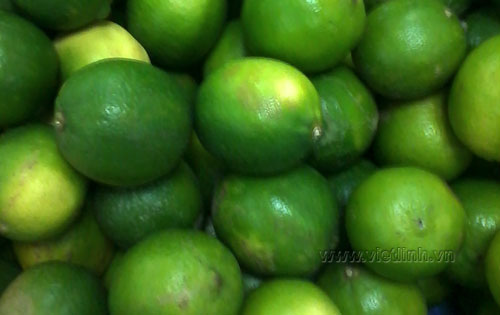 The price of lime in many Mekong Delta localties has increased compared to more than 2 weeks ago. The price is currently high.
High-quality lime is purchased by traders at VND25,000-26,000/kilogram; seedless lime is sold at VND19,000-20,000/kilogram, and other type of lime is sold at VND17,000-18,000/kilogram.
With the hot season coming, the demand for lime increases. This leads to the increase in prices, especially when the supply of lemon or lime in many localities is limited because this is the time where limes don't bear many fruits. In addition, lime is also being purchased by many businesses for export or for raw materials for other products.
Farmers, Agriculture, Countryside:
According to the Organizing Committee, the 7th Buon Ma Thuot Coffee Festival in 2019 has many new highlights with the message of gradually bringing Buon Ma Thuot to become the destination of the world's coffee lovers and producers.
A main new activity of the festival is the Vietnamese Specialty Coffee Contest, which attracts many coffee producers and processors to register. The judge of this contest are especially internationally well-known experts in the field from the U.S., Mexico, Japan, and Indonesia.
Another new feature of the festival is an exhibition introducing history of the world's coffee with thousands of unique artifacts.
Living and Environment:
Since the last one month, people in Hamlet 5, Thanh Son Commune, Dinh Quan District, Dong Nai Province have been concerned because wild elephants come and destroy their mango, cashew, and banana crops. These wild elephants appear often to find food, causing difficulties for local residents' activities and production.
People in this area said that the herd often has 1 to 6 adult elephants. People have also used a lot of measures such as burning fire, using loudspeakers, knocking on drum barrels, and even using gas to scare them away. But the elephants are not afraid and keep coming back to attack people as well as their farms.
Pet, Flowers and Ornamental Plants:
The area of A Luoi in Thua Thien Hue Province has appropriate soil, climate and temperate of highlands for growing tulip. Since it was introduced to this region, the flower has brought high economic efficiency and become a valuable product. It opens up new opportunities for local residents to start their farming businesses.
On average, with a density of 20,000 tulips, the lowest harvest profit is also over VND400 million. This shows that the flower brings higher income compared to other crops. Since the last two years, tulip flowers from A Luoi have been sold in Hue, Da Nang, and Quang Tri Provinces.
By Sonia LV - Copyright © VietLinh