Aquaculture:
Traditional shrimp farming faces many risks. Thus, many farmers in Long An Province have gradually switched to shrimp farming with high technology application to improve their income.
This year, many households in the area of ​​Can Duoc, Can Giuoc have a complete Lunar New Year because their whiteleg shrimp farming crops were successful. Can Duoc District currently is having nearly 200 hectares of shrimp farms applied high technology. Its productivity can reache 30 tons of shrimp/hectare/crop.
According to the authority, ​​Long An Province has more than 10,000 hectares of aquaculture farming. Of which, there are 7,000 hectares of brackish water shrimp farming. In order to stabilize and develop the shrimp-rearing industry, the province has many programs to support the construction of brackish water shrimp ponds and policies to encourage agricultural production. In particular, the province provides trainings to farmers and guides them to implement biofloc technology in whiteleg shrimp farming. The method contributes to the control of epidemics while improving production and quality of shrimp towards sustainable development.
Processing, Import and Export:
Vinh Long Province has 97.7% of water surface farming commercial Tra fish (Pangasius hypophthalmus) that reaches international and VietGAP standards for aquaculture production. The number of farms with connections to production or processing facilities is increasing. In the future, the sector will manage the development of Tra fish according to planning to avoid the supply-demand crisis.
The province's Tra fish factories are focusing on refining the fish, which helps raise the value of this species.
Reportedly, Vinh Long Province has about 456 hectares of Tra fish in 2018. The output of this is nearly 87,000 tons, which was an increase of 10,500 tons over the same period last year.
Livestock:
In Binh Son Commune, Long Thanh District, Dong Nai Province, the prices of chicken near Lunar New Year were only at VND50-60 thousand/kilogram, which was about VN15-20 thousand/kilogram lower compared to last Lunar New Year. The prices were contrary to the predictions of many farmers in the area. In particular, roosters were sold at about VND50 thousand/kilogram, and hens were at VND60 thousand/kilogram.
With this price, farmers only earned enough money to cover for their capital. Binh Son Commune is the largest chicken-breeding area in the Southeast, supplying over 2 million chickens of all kinds to the market each year. Chicken in Binh Son Commune is raised in semi-industrial form, but its meat quality is delicious. Not only providing the supply to the province's domestic market, chicken from Binh Son is also sold to other places such as Ho Chi Minh City and Binh Duong.
Plantation:
In An Phu District, An Giang Province, the model of farming rice with biosafety has proved its effectiveness over years of practical implementation.
In the context that many farmers still have the habit of using chemical fertilizers and plant protection products, since the past 20 years, hundreds of households in Vinh Loc and Phu Huu Communes, An Phu District, have farmed more than 400 hectares of rice without pesticides and with a limited use of fertilizers.
Thanks to reducing fertilizer and pesticide costs, along with the crop's stable productivity, farmers here earn higher profits than other places from VND3-4 million/hectare. More importantly, farmers do not use pesticides or chemicals to produce clean and safe rice that meets the export markets' requirements.
Fruits: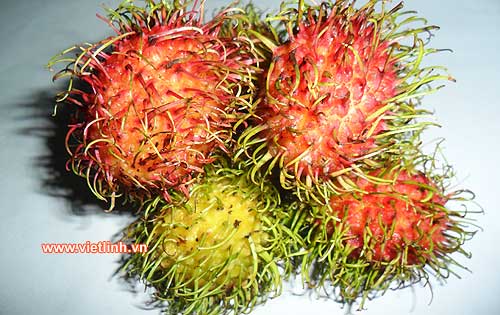 Rambutan. The picture is for illustrative purpose only.
According to the Department of Crop Production, in 2019, the sector will strive to reach 1 million hectares of fruit trees.
In order to ensure food safety and source traceability to meet the domestic and export markets' requirements, the crop production sector continues to guide farmers to apply advanced standards in their production such as VietGAP, GlobalGAP and organic criteria.
The department also indicated that five different kinds of fruits in southern provinces such as dragon fruit, mango, durian, rambutan, and longan should be farmed to harvest at different time to avoid falling prices due to surplus. There should also be reviews to provide suitable farming procedures for each crop and production area. The purpose of such evaluations is to promote domestic and export market forecasts for effective farming methods.
In particular, for citrus fruit trees, the Department of Crop Production recommends that localities should minimize the increase of farming land and unsustainable development, especially in inappropriate areas.
Farmers, Agriculture, Countryside:
In 2018, the export sector of An Giang Province had many advantages. The three main items, which rice, Tra fish, fruits and vegetables, had a high export growth rate, reaching $840 million. This was an increase of 2.44% compared to the previous year. The figure also met 100% of the sector's export plan.
Strong export growth rate, expanded markets, and farmers and businesses earning high profit show that agriculture is still the main factor of An Giang Province's economy.
Living and Environment:
According to the Forest Protection Department of Dong Nai Province, the unit has just equipped flycam (flying cameras) for forest protection stations in Dinh Quan and Vinh Cuu Districts. Flycam were also provided to the mobile forest protection team and the Nature Conservation Office.
These flycams can fly up to 500 meters at a 8-kilometer radius to support the forest protection team in managing wild animals, especially wild elephants and warning forest fire.
Pet, Flowers and Ornamental Plants:
On average, each year, Sa Pa District, Lao Cai Province, provides the market with 40,000 to 50,000 orchid pots (especially Tran Mong orchid, a type of cymbidium) on the occasion of Lunar New Year Holiday. Currently, the price of each small pot of Tran Mong orchid is from VND2 to 3 million; the average pot is from VND5 to 7 million each. With large orchid pots that have many flowers, the price can reach tens of millions of Vietnamese dong.
Here, many households of Mong and Dao ethnic groups in Sa Pa were able to avoid poverty and become rich thanks to growing orchids.
According to data of the authority, Lao Cai Province has more than 100 hectares of roses, nearly 20 hectares of chrysanthemum and gladiolus, along with about 30,000 ornamental peach blossom trees, and nearly 100,000 orchid pots. Currently, flower products of Lao Cai not only meet the needs of the province, but also are sold at different places in Vietnam, especially its cymbidium orchid, Sapa roses, or Xuan Quang peach blossom.
By Sonia LV - Copyright © VietLinh