Aquaculture:
With many advantages such as high survival rate, only 5-6 months of farming, or stable output, Pacific oyster is preferred by many households in Long Son Commune, Vung Tau City, Ba Ria-Vung Tau Province.
Thanks to Pacific oyster cages, some farmers can sell about 2.5 to 3 tons of commercial oysters each month. With selling prices ranging from VND25 thousand to VND50 thousand/kilogram (depending on type), after deducting expenses, farmers can earn an income of nearly VND100 million.
Long Son Commune, Vung Tau City has nearly 40 households raising Pacific oyster on an area of ​​26 hectares. Not only Long Son Commune, some other aquaculture areas in Ba Ria-Vung Tau Province are also shifting to Pacific oyster farming. Specifically, in Phuoc Tinh Commune (Long Dien District), there are 70 households growing Pacific oyster on an area of ​​over 30 hectares.
Processing, Import and Export:
According to the leader of the Vietnam Pangasius Association (VINAPA), the most influential success in 2018 of the Pangasius-farming industry was its breakthrough in export value. The export of Pangasius, or Tra fish, reached $2 billion last year. The output of raw materials reached over 1.3 million tons. The price of raw Tra fish is currently high at over VND35,000/kilogram.
The export of Tra fish shows positive signals as the demand from China has risen, and the U.S. lowers its POR 14 anti-dumping taxes on Vietnamese Tra fish. The Food Safety and Inspection Service of the U.S. Department of Agriculture also recognizes and proposes that Vietnamese Tra fish is eligible for export to the U.S. market.
In 2019, Tra fish farming and export is expected to continue to grow. Despite that, the biggest challenge for the industry is competitions from other countries that can farm and export Tra fish.
Livestock:
NS BlueScope Lysaght Vietnam Ltd. has just signed a strategic cooperation agreement with SKIOLD. SKIOLD is a Danish group that has over 140 years of experience in providing modern technology solutions for feed manufacturing plants, pig farms, poultry farms, as well as solutions for processing, cleaning and storing nuts and grains.
NS BlueScope Lysaght Vietnam Ltd. has launched its Lysaght Agrished farm solutions since 2015. The firm is now a leading business providing total solutions from building barns to managing central operating systems.
In particular, Lysaght Agrished solutions are designed according to the characteristics of each locality and type of livestock. It helps increase productivity, limit reinvestment for at least 20 years, and control diseases in farming.
Plantation: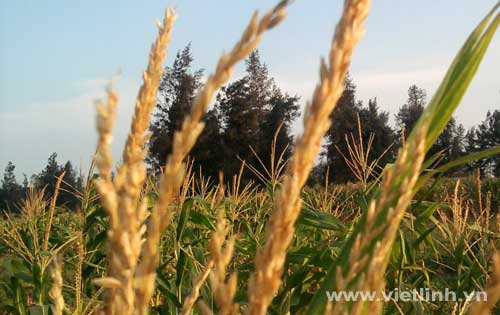 Vietnam's rice export closed its success in 2018 with a 4.6% growth. The export volume reached 6.09 million tons. Vietnam's rice export is currently accounting for 15% of the total rice export worldwide. In particular, there has been a positive shift in export prices and high-quality rice export.
At the beginning of 2019, the Vietnam Ministry of Agriculture and Rural Development announced a logo for Vietnamese rice. At the same time, Phoenix Corporation (Dubai) signed a cooperation agreement with Loc Troi Group (Vietnam) to develop sustainable rice production, minimize adverse impacts of climate change, as well as control pests and diseases in rice farming. The project will support 10,000 small Vietnamese farming households to expand sustainable rice cultivation with more than 10,000 hectares of rice land. Thereby, Vietnamese businesses will have many opportunities to provide high-quality rice with full traceability to consumers around the world. The development milestone of the industry is also expected to help increase rice farmers' income.
Fruits:
On recent days, companies and small businesses have increased the purchase of Binh Thuan dragon fruits. They export about 1,000 tons of fruits/day to China, including red-fleshed dragon fruits to serve Chinese consumers' demand on the Lunar New Year.
At this time, the price of white-fleshed dragon fruit is bought by small traders directly in gardens at VDN18,000 - 20,000/kilogram, helping farmers earn an interest of VND6,000 - 7,000/kilogram. Red-fleshed dragon fruit costs VND25,000 - 26,000/kilogram, which brings higher interest rates. The prices are fairly high income sources for many dragon fruit gardeners on the Lunar New Year 2019.
It is known that Binh Thuan Province has more than 27,000 hectares of dragon fruits. It has an output of over 500,000 tons of dragon fruits/year. Most of this specialty fruit from Binh Thuan is exported to China through border trade.
Farmers, Agriculture, Countryside:
The minimum target for the agriculture sector in 2019 is to achieve a growth rate of 3.0% and an export turnover of $43 billion. Additionally, 50% of communes and 70 units at district levels must meet the "new rural standard," and the forest coverage rate is expected to reach 41.85%.
Those are the aims proposed in a notice by Vietnamese Prime Minister Nguyen Xuan Phuc at a conference on agriculture and rural development in 2018 and targets in 2019.
Pet, Flowers and Ornamental Plants:
According to the authority of My Tho City, Tien Giang Province, during the Lunar New Year holiday in 2019, My Tho City will supply nearly 1.1 million flower baskets to the market. This is an increase of about 100,000 baskets compared to last year.
The main flowers provided by the city include different types of chrysanthemum, which accounts for 80% of the total flower baskets. The remaining are other kinds such as cockscomb, sunflower, lily.
Besides, the city also provides to the market over 20,000 ornamental flower pots, including yellow Mai (Ochna integerrima), Plumeria with different colors, and Bougainvillea.
By Sonia LV - Copyright © VietLinh