Aquaculture:
Seafood farming in cages was formed in Phu Yen Province in the 1990s. So far, this technique has developed strongly with about 1,000 hectares of sea surface. The main farming species are lobster and marine fish.
Particularly, lobster farming in Phu Yen brings high economic efficiency. The province has a total of 91,290 lobster cages, providing an output of about 710 tons/year. With marine fish, many businesses have developed large-scale farming and applied the advanced technology of plastic cages from Norway. There are currently about 185 marine fish cages in Phu Yen.
According to the functional sector, in 2019, Phu Yen Province will implement a project experimenting lobster farming in plastic cages with Norwegian technology in an area of 20 hectares. The province will evaluate and license investment projects on the production and trading of Asian sea bass and other high-quality marine fish products farmed in cages. The scale of these projects is about 1,000 tons of fish/crop, or 400 tons of fish fillets/crop within 5 years in an area of ​​nearly 30 hectares.

Processing, Import and Export:
With its strengths in aquaculture, in 2018, Bac Lieu Province exported about more than 56,612 tons of seafood, which were about 102.72% of its initial export target. This was an increase of 13.40% over the same period last year. Of which, frozen shrimp export reached over 54,612 tons.
The growth in seafood export volume was due to seafood businesses' increases in production and processing capacity to have enough export goods and meet the quality standards of importing countries. At the same time, these businesses maintained traditional markets to increase their export turnover, especially importers such as Japan, EU, U.S., China, South Korea, and Taiwan.
Livestock:
With 9 dairy farms stretching from North to South that meet the Global G.A.P. standard, Vietnam Dairy Products JSC (Vinamilk) was certified by Bureau Veritas, a representative of Global G.A.P. in Vietnam, as the largest Global G.A.P. farm system in Asia. This is the first and only certification in Vietnam for dairy farm systems. It shows that Vinamilk ensures good agricultural practices and maintains the quality of its fresh milk without using growth hormones, pesticide residues, antibiotics, or preservatives. The company provides pure and natural products for its consumers.
The total number of dairy cows Vinamilk has in all of its farms and farming household partners has reached over 120,000 cows. The cattle provide up to 800 tons of raw milk per day, equivalent to 3.2 million cups of milk. With a series of projects on investing and expanding raw material areas, Vinamilk is expected to have about 200,000 cows in 2020 and double the output of its raw fresh milk.
Plantation:
Aloe vera has been grown in Ninh Thuan Province since 2002. It is easy to grow, has good drought tolerance and provides high yield. The plant soon became one of the key crops and brings high income to many farmers in the region. Aloe vera in Ninh Thuan is grown in an area of ​​about 330 hectares with an output of over 100 thousand tons. With the right care process, along with a stable selling price of VND800-1,500/kg on average, farmers can earn a profit of VND300-350 million/ha/year from aloe vera.
The province's agricultural sector is planning to increase the area of ​​aloe vera to about 500 hectares by 2020. In order to meet the target, the province continues to implement policies that support farmers to develop aloe vera farming and to earn high income from the region's dry land.
Fruits:
Although it's more than one more month until Lunar New Year 2019, shaped fruit products have been ordered early and even sold out.
According to Phu Tri A Agricultural Extension Club (Chau Thanh District, Hau Giang Province), this year, as the number of orders for shaped fruits increases, the club decides to provide instructions to fellow farmers to expand the production scale. It cooperates with farmers in the Western provinces to produce 8,500 pomelo with the shapes of wine gourd and the engraved word "fortune." The fruits are valued at VND250,000 – 1,200,000 each (depending on size).
The club also shapes thousands of watermelon. In particular, this year, the club will supply to the market 400 watermelon and 300 pomelo with the shapes of gold bars. Their selling prices range from VND600,000 to 800,000 each.
Farmers, Agriculture, Countryside: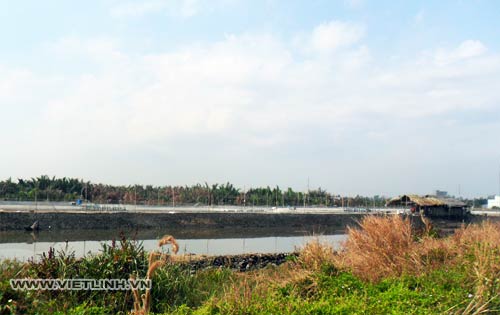 Market expansion and access to official exports (rather than border trade) have helped Vietnam's agriculture create a breakthrough in 2018.
According to the General Statistics Office, compared to 2017, the GDP of agriculture, forestry and fishery products in 2018 increased by 3.76%. It has reached the highest level since the last 7 years. The production value was also increased by 3.86%, and the export turnover was estimated at $40.02 billion.
Living and Environment:
Huynh Thanh Hai, living in Hamlet I, Tri Ton Town, Tri Ton, An Giang Province, said that these days, at the end of the afternoon, thousands of little egrets and several Asian openbill storks appear in his coconut garden for an overnight rest.
By the next morning, the flock flew away to find feed. This scene creates excitement for local residents around his house and visitors.
According to the Forest Protection Department of Tri Ton District, a small number of Asian openbill storks in Huynh's garden are species listed in the Vietnam's Red Data Book. They are banned from all forms of hunting.
Pet, Flowers and Ornamental Plants:
Most florists in My Tho Flower Village (Tien Giang Province) have years of experience in the industry. Yet, the past seasonal rains still make them concerned.
Some florists said that erratic weather in the past few days could affect the growth of their flowers.
At this time, people in My Tho Flower Village finished sowing flower seeds for the 2019 Lunar New Year crop. This year, My Tho Flower Village plants over 1.1 million flower baskets of all kinds, an increase of 25,000 baskets compared to 2018.
By Sonia LV - Copyright © VietLinh