Weekly summary (September 18, 2017 - September 24, 2017)
Aquaculture:
Raw shrimp price in Mekong Delta provinces tends to increase sharply. The price of black tiger prawn increases about VND20,000 compared to last month; those with popular size can range from VND196,000 to 200,000/kg. The price of common size whiteleg shrimp increases and fluctuates around VND155,000-180,000/kg.
Favorable weather this year compared to the previous year has positively impacted brackish shrimp farming in Mekong Delta. Black tiger prawn and whiteleg shrimp areas respectively reach 581,000 hectares and 63,600 hectares. They account for nearly 95% of the total brackish shrimp farming land of ​​the country. The total yield harvested is nearly 316,000 tons, up about 30% compared to the same period last year.
Processing, Import and Export:
According to the Vietnam Association of Seafood Exporters and Producers (VASEP), by the end of July, 2017, the total value of shrimp export reached $1.9 billion, up 18.5% over the same period last year. Except for the United States, the value of export to key markets continued to grow.
Japan became the largest market of Vietnamese shrimp in the first seven months of the year with $383.8 million of export. This was an increase of 35.2% over the same period of 2016. EU was the second largest market of Vietnamese shrimp. Shrimp exports to the EU in the first seven months reached $380.6 million, up 20.5%. Of which, export to the UK and the Netherlands recorded the highest increase, 49.4% and 32.7% respectively. China ranked third with the best growth rate of 39.8%, or $348.4 million.
Livestock:
Tran Van Thiet's farm in Long Binh Commune, Go Cong Tay District, Tien Giang Province has the largest number of bird's nest houses in Tien Giang. With the number of oats available, Tran can harvest an average of nearly 20 kilograms each month with high economic efficiency.
After years pursuing this career, Tran has a lot of experience and understandings of farm construction, timing and characteristics of swiftlets. It is difficult to build a bird house to attract swiftlets, creating an environment for the birds to reproduce is even harder. The success of farmers is decided on the development of the flock. The more the houses attract swiftlets, the more they reproduce and create nests. This process takes a long time. Thus, many people with small investment easily give up.
According to Tran, from the time swiftlets inhabit to nest harvest, it takes about 4 months. Usually, bird's nest is harvested in the form of rolling, which takes about 10 days to harvest a batch. At this time, the market price of bird's nest ranges from VND13 to 14 million/ fresh kilogram before processing.
Plantation: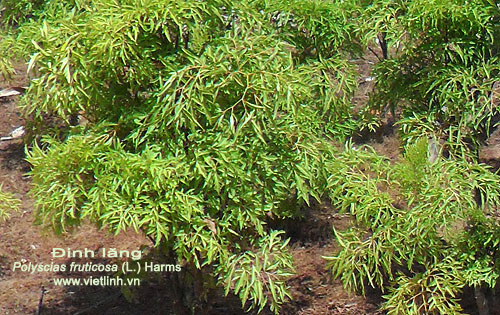 Over the past few years, Xuyen Moc District, Ba Ria - Vung Tau Province has developed a model of intercropping commercial Ming aralia, also called Polyscias fruticosa, with some other fruit trees. The trees grow well; their market and prices are also stable. Thus, many farmers earn high income thanks to this medicinal plant.
Growing Ming aralia is simple because the plant is healthy without many diseases. Intercropping the tree with other plants such as pepper, papaya, and banana will be beneficial to both Ming aralia and farmers. After 6 months, the crop can be harvested. All parts of the plant are valuable and used by pharmaceutical companies. Its leaves cost about VND3,000/kg; the body is VND28,000-30,000/kg. Some households who do not want to sell their Ming aralia early can wait for the tubers, which appear when the trees are 2-3 years old. The price of tubers are about VND50 thousand/kg.
At this time, pharmaceutical companies have a large demand of Ming aralia. In addition, many businesses buy the trees for oil extraction for export to foreign markets such as India and Singapore. Thanks to the appropriate weather in Ba Ria – Vung tau, the quality and content of Ming aralia oil are high.
Fruits:
Vinh Long Province is inviting investors to participate in projects building fruit production zones for export in districts and towns in the province.
Accordingly, the projects propose locations of fruit production areas for export in Vung Liem, Long Ho, Mang Thit, Tra On Districts and Binh Minh Town. Investors can work with local growers to develop concentrated farming areas for the fruit processing industry under Good Agricultural Practices (GAP).
The estimated total investment is about VND50 billion/project. Domestic and foreign investors can invest 100% of capital or joint venture to each project. The investments aim to maximize the advantages of locals and find new directions for specialty fruits of each region. At the same time, they contribute to the growth of agriculture and rural areas under the province's agricultural development plan.
Farmers, Agriculture, Countryside:
On the vast sandy beaches of Ninh Thuan Province, there are many green farms of drought-tolerant specialty plants. The severe consequences of drought in the agricultural sector recently have brought valuable lessons to Ninh Thuan Province in planning and organizing production.
The first lesson is that specialty crops with high economic value must be resistant to drought. Actual experience shows that grapevine, asparagus, apples, mango, jackfruit, pomelo, rambutan and mangosteen are crops that meet the requirements of Ninh Thuan. After the peak of drought in 2015, the province's agricultural sector has planned towards the development of these trees. In the coming time, the sector strives to convert about 8,000 hectares of inefficient rice paddy fields into vine, asparagus and apples.
Living and Environment:
Dong Nai Province's Forest Protection Department said that based on information from local residents, it learned that a herd of elephants just appeared near the electronic fences protecting animals in Thanh Son Commune (Dinh Quan, Dong Nai). Videos recorded also showed that the herd has about 14 individual elephants. In particular, there are 4 calves. These elephants are also different from the two herds previously recorded.
By Sonia LV - Copyright © VietLinh