Weekly summary (March 13, 2017 - March 19, 2017)
Aquaculture:
The farming model combining black tiger prawn with sea cucumber and Caulerpa lentillifera, a species of green algae, is conducted by the Ninh Thuan Province Agricultural and Fishery Extension Center. The model is tested in 2 hectares in Phuong Hai Commune, Ninh Hai District, Ninh Thuan Province.
With a stocking density of 20 prawns/m2; 1 sea cucumber/m2; 0.05 kg of Caulerpa lentillifera/m2, this model is implemented in VietGAP standard.
After nearly 9 months of farming, the survival rate of shrimp and sea cucumber is over 70% (15% higher than pure species). Cucumber production reaches 3.6 tons/ha; sea cucumber yield is 2.6 tons/ha, and Caulerpa lentillifera yield is 3 tons/ha with a size of 3 kg each bush. After deducting the costs, 3 households participated in the experiment collect more than VND600 million, 30% higher than farming only pure black tiger prawn.
According to the assessment, the biggest benefit of this model is the minimized use of drug, chemicals in the breeding process. Feed is managed evenly without excessive amount. Thus, the farming water environment is clean and free of diseases.
Processing, Import and Export: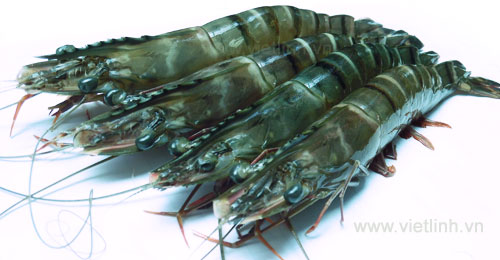 Leaders of the Ministry of Industry and Trade said that the suspension of shrimp imports by the Australian Government has caused huge damages to shrimp farmers and shrimp export of Vietnamese companies. Many companies exporting shrimp to Australia face the risk of bankruptcy.
The Vietnamese government is asking the Australian side to review the ban. Before that, according to the Vietnam Trade Office in Australia, the Australian Minister for Agriculture and Water Resources Barnaby Joyce announced a ban on shrimp import from Vietnam within the first six months of 2017 from January, 2017 because of the White Spot Syndrome outbreak in Queensland.
Livestock:
Duck farming in Go Cong Tay District, Tien Giang Province has recently turned to profitability for livestock farmers. Farmers are now focusing on inspecting and managing diseases.
One of the popular ducks here is Grimaud duck, originally from France and created by Grimoud Frère Selection. It is a super-lean duck with delicious meat and nearly two months of farming. It can adapt to terrestrial conditions.
Unlike underwater farming, Grimaud duck doesn't require much investment for barns. It only needs a dry, airy area that can avoid rain. Not only having better productivity, this species requires shorter farming time compared to other super-lean ducks. After 45 - 50 days of breeding, the flock can reach a weigh from 3.2 to 3.5 kg each duck.
Farming Grimaud super-lean duck in land is suitable for climate change and beneficial to the environment. The model is continued to be replicated.
Plantation:
Pepper farming areas in Dak Lak, Gia Lai, Dak Nong and other provinces are in the harvest season. But, pepper's recorded low price has made farmers face hardships.
According to agricultural agencies, this is lowest price in the past 5 years. Many farmers said that they would wait for better price to sell.
Some exporting companies said that the low price is caused by an abundant supply but reduced demand. Pepper areas in the Central Highlands and other places throughout the country are now out of the plan, making the supply to the market plentiful and pull down the selling price.
It is recommended that farmers should focus on growing clean pepper, increase quality to reduce the stress of finding the output or unstable price.
Fruit:
Due to a warm winter, this year, the flowering rate of longan is low. According to the Plantation and Plant Protection Department of Bac Giang, the province covers an area of ​​over 2 thousand hectares of longan with a flowering rate of around 30%.
The flowering trees are mostly mature, planted by the marcotting method with gardeners' experience. For areas that have already flowered, it is necessary for gardeners to take care of the trees in order for them to bear fruits. In addition, growers must observe weather conditions to provide treatments and care on time.
Living and Environment:
Recently, at a workshop on developing a plan to recover and fight against El Nino and La Nina in Vietnam, many scientists have analyzed the large damages caused by climate change. Specifically, only in 2015 and 2016, El Nino has caused draught in a large scale and saline intrusion in 18 provinces and cities in the South Central region, the Central Highlands and Mekong Delta. It affects the lives of about 2 million people and damages more than VND15,000 billion.
Pet, Flower and Ornamental Plants:
Up to now, ​​Ha Noi has ​​2,700 hectares of flower farming. Of which, about 50 regions have a scale of more than 20 hectares. To promote floriculture sustainably, the agricultural sector have been researched innovated models and high-tech applications to produce high-quality flowers. The results of these are the productions of 70% orchid, 80% peach blossom, 80% high-quality, clean seedlings without the use of pesticides.
By Sonia LV - Copyright © VietLinh