Weekly summary (February 13, 2017 - February 19, 2017)
Aquaculture:
On recent days, dense fog appears in the morning and extends in Mekong Delta provinces of Soc Trang, Kien Giang, An Giang, and Can Tho. It is the middle of February but continuous heavy rains cause changes in weather and affect stocking and sowing.
Currently, it is the peak time of brackish-water shrimp stocking in coastal provinces in Mekong Delta. However, unseasonal heavy rains causing sudden changes in temperature, pH, and salinity of water make farmers worried.
Unusual weather can shock shrimp and cause mass death. Farming other species also face difficulties. Unseasonal rains and temperature fluctuations in the past few weeks causes 10-30% damages in fish hatcheries in Mekong Delta provinces.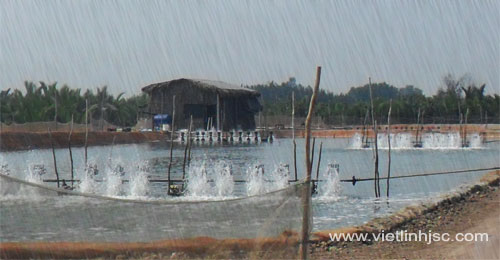 Processing, Import and Export:
At a press conference on February 13, Vietnam Pangasius Association forecasted that the demand for imported Tra fish in foreign markets will be increasing until the end of the first quarter of 2017 at the rate of 20%. According to the Association, Tra fish export to Asian countries, especially China, will has a double growth compared to the U.S.
It is reported that the price of raw Tra fish ranges from VND22,000 to 23,000/kg, an increase of about VND4,000-5,000/kg compared to the same period last year.
In 2017, the Directorate of Fisheries said that with farming areas of 5000 - 5.500ha, Tra fish production is forecast to reach 1.15 million tons with an export quota of $ 1.7 billion.
Livestock:
With modern, imported equipment and the application of advanced technology, Dabaco Breeding Chickens Vietnam provides about 40 million high-quality chicken to the market every year. In addition to breeds, Dabaco's green shell eggs are also highly evaluated by their superior nutritional content.
For over 20 years, Dabaco always pursue the goal of "Seeing farmers' profits as a goal for all its activities." Therefore, to meet the needs of the market, the company strongly invests in factory producing poultry breeds, research center for nine-spur cock, research center for the application and development of livestock and poultry breedings.
Currently, the farming system of the company has 300,000 chickens. Barns are especially equipped with advanced technology imported from Big Duchman (Germany) such as the automatic air conditioning, automatic feeding system. In addition, modern hatching technologies are also directly imported from Chick Master, an American firm.
Plantation:
According to the Vietnam Coffee and Cocoa Association (Vicofa), in 2016, coffee export reached 1.79 million tons, bringing $3.36 billion, up 33.6% in volume and 25.6% in value compared to 2015. This included a amount of large inventory, 300,000 tons left from 2015.
However, in 2017, the volume of export quota is forecasted to be not as increasing as in 2016. It is predicted to reach 1.3 million tons only in 2017, a decrease of 20-30% compared to 2016.
The cause is due to the negative impact of El Niño, which becomes the strongest in the past 2 decades coming along with severe and extended drought in the Central Highlands.
In addition, coffee area needs to be replanted due to prolonged low productivity.
Oh growing status in the coffee Pepper as Intercropping of pepper or fruit trees like avocado, durian with coffee plantations also makes coffee production decline. This phenomenon affects the yield and export of coffee in the 2016-2017 crop year.
Fruits:
After Lunar New Year 2017, pest invasion in orchards in Phung Hiep District, Hau Giang Province has not diminished. Growers are currently worried because they have not found effective preventions and treatments for this situation.
According to growers in Phung Hiep District, unseasonal rains created favorable conditions for pests to develop in stems and leaves of fruit trees. Although the damage levels are not serious, it can easily spread out to other trees as an epidemic if there is no timely solution conducted. Statistically, the district has had 130ha infected by pests. In particular, Greening disease in orange, tangerine and pomelo appears in 108ha; fruit borer and citrus leafminer appear in 6ha; soft roots and rotten roots – yellow leaves appear in 8ha. In addition, scab in citrus appears and causes damages in 5ha.
Gardeners are actively processing and keeping hygiene for their gardens by liming, fertilizing, and spraying medicines. It is necessary to treat diseases in its early stage by spraying and using potash fertilizer for plants to recover quickly.
Farmers, Agriculture, Countryside:
The exhibition "Mekong Delta International Agriculture Festival" will take place from March 9-13 in the city of Can Tho. The exhibition is organized by the Ministry of Science and Technology cooperating with 13 provinces in the Mekong Delta region.
According to the organizer, currently, there have been 4 countries and territories registering to participate, such as China, Taiwan, Thailand, and South Korea. At the festival, there will be important activities such as the exhibitions of technologies and products with a scale from 300-500 booths of businesses in agriculture and related fields, the program "Connecting suppliers and consumers," and gold metal awards for "Innovated Agricultural Science."
Pet, Flowers and Ornamental Plants:
Muong Hoa Company (Lao Cai Province) has become the first and only business successfully nursing and farming Japanese cherry blossoms in Vietnam.
In 2014, the unit has imported Japanese cherry blossoms bred by Taiwan for farming testing in Cheo Phin A village, Cao Son Commune, Muong Khuong District, Lao Cai Province. Although the process was complicated, the successful germination rate was 90%. The seedlings has developed and bloomed flowers. Thus, the business has officially launched its selling in the market.
Cherry blossoms of Muong Hoa Company including different colors such as white, pink, light pink with two kinds of single and double wings. The cherries especially can be grown in delta regions. The business representative said that the trees were bred; growers do not have to invest a lot of care. The flowers are appropriate to be grown at villas and on streets.
By Sonia LV - Copyright © VietLinh