Weekly summary (September 10, 2018 - September 16, 2018)
Aquaculture:
The Ministry of Agriculture and Rural Development has approved a master plan for the development of Vietnam's brackish-water shrimp farming industry to 2030.
The project focuses on two species, black tiger prawn and whiteleg shrimp, in coastal provinces and cities with natural brackish water resources suitable for their growth. The target of this project is to maintain 750,000 hectares of brackish-water ​​shrimp farming by 2030. The output of this area is expected to reach over 1.3 million tons of shrimp. Of which, the area of ​​black tiger prawn farming is predicted to reach 600,000 hectares, providing 550,000 tons of prawn. Whiteleg shrimp farming is expanded to ​​150,000 hectares with an output of over 750,000 tons of shrimp.
The brackish-water shrimp sector in Vietnam will also actively choose to create and produce 100% of parent stocks of black tiger prawn and whiteleg shrimp for domestic production. By 2030, the total export turnover of Vietnam's brackish-water shrimp is targeted to reach over $12 billion.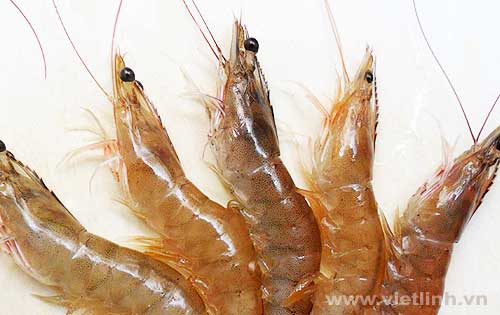 Processing, Import and Export:
According to the Vietnam Association of Seafood Exporters and Producers (VASEP), on September 10, 2018, the U.S. Department of Commerce (DOC) announced the final anti-dumping tax on shrimp from Vietnam in the 12th period of review - POR12 (from February 1, 2016 to January 31, 2017).
The final tax rate for Vietnam's shrimp imported to the U.S. is 4.58%, much lower than the 25.39% preliminary rate notified by the DOC on March 8, 2018.
VASEP said that with the final tax of POR12 lower than preliminary tax and POR11 result, Vietnam's shrimp exports to the U.S. market is expected to recover in the coming months.
Livestock:
From the beginning of 2018, the output of pork in Dong Nai Province reached nearly 274 thousand tons, an increase of about 5.4 thousand tons compared to the same period last year. The output of poultry also reached 65.7 thousand tons, an increase of over 2.3 thousand tons.
The reason for this increase is due to the recent high price of pork. The stable price facilitated farms and businesses to expand their production and farming scales.
According to statistics, by the end of August 2018, the total number of pigs in Dong Nai Province reached nearly 2.45 million, up 19% over the same period last year. The total number of poultry was at 24 million, up nearly 20% over the same period last year. Of which, the number of chickens reached over 22.5 million.
Plantation:
The areca nut palm brings relatively high and stable income for farmers in Nam Dong District, Thua Thien Hue Province.
The total area of ​​ areca nut palm trees in Nam Dong District is currently at about 100 hectares. Although this time is the beginning of the crop, the price of areca nuts has already ranged between VND27 thousand to 30 thousand per kilogram, about VND5 thousand higher than the peak of 2017.
Thus, one hectare of areca nut palm with high yield can bring an income of about VND700 million per year. However, the area of ​​this species tends to decrease due to pests and aging. At this time, the functional sector is cooperating with farmers to actively prevent pests, diseases, and provide care for the remaining palm area.
Fruits:
Dang Thi Ngoc Ha in Truong Dong Commune, Hoa Thanh District, Tay Ninh Province invested in planting nearly 1 hectare of Ninh Thuan red grape. That was the first time red grape of Ninh Thuan planted in Tay Ninh Province in a farm. It initially shows positive signs of high economic efficiency.
With consultations from many people that Ninh Thuan red grape could adapt to soil and climate of Tay Ninh Province, Dang decided to invest nearly VND300 million in 1,250 plants for her garden.
According to Dang, the initial investment cost was high, mainly for the purchase of seedlings and trellis. Seedlings could cost VND70,000 each. After 9 months, grapes can be harvested. Since this was the first crop, the yield of grapes was not high, only at a few hundred kilograms. Red grape price at the market is currently at VND40,000/kilogram. Yet, for the second crop, with the correct care, Dang expected to harvest more than 2 tons of grapes per hectare.
Farmers, Agriculture, Countryside:
Currently, there are 949 farms of all kinds in Lam Dong Province. Of which, 205 farms have been granted certificates for farm economy. In Lam Dong, 534 farms focus on cultivation, and 370 farms concentrate on plantation. The province's agricultural sector aims to promote the development of farm economy, consider farms as one of the driving forces for large-scale and high-yield agricultural production on arable land.
In order to promote information and experience exchange between farmers, Lam Dong has set up two farm owners' clubs in Lam Ha and Di Linh, gathering more than 60 members who are owners of large farms in the region to participate.
Living and Environment:
The Phu An Bamboo Village (Ben Cat Town, Binh Duong Province) operates the Phu An Ecological Bamboo Museum, which is home to about 1,500 bamboos with more than 300 samples of 17 different species. It gathers nearly 90% of bamboo varieties in Vietnam.
The museum is preserving rare bamboo varieties and contributing the diversity of this species in the world. Phu An Bamboo Village has been introduced by international scientific journals and researched by many scientists of the field.
Pet, Flowers and Ornamental Plants:
Bougainvillea farming has been most developed in Phu Son Commune, Cho Lach District, Ben Tre Province since 2010. It concentrates mainly in Lan Dong Hamlet with about 7 hectares for farming. More than 10 years ago, only a few households planted Bougainvillea for bonsai in their gardens. Until now, Phu Son Commune has more than 1,000 households growing Bougainvillea for commerce with total revenue of tens of billions Vietnamese dong each year. This year, in addition to the traditional Bougainvillea, a new species with purple flowers is planted in this region.
Typically, Bougainvillea flowers will fall off after 15 days after blooming. Yet, the new species can extend this period up to 60 days.
By Sonia LV - Copyright © VietLinh