Weekly summary (October 9, 2017 - October 15, 2017)
Aquaculture:
In Tran De District, Soc Trang Province, Hua Thanh Hung, a member of My Thanh Shrimp Farming Association, combines shrimp with Asian sea bass in farming. In the 2016 crop, even when there was draught and salinity intrusion, only 1 out of 30 shrimp ponds in Hua's farm was damaged. In the first crop applying this technique, he earned more than VND11 billion. Hua said that thanks to the increase of settling ponds, combination with Asian sea bass, and water treatment for shrimp farming, this model is successful.
With ​​160 hectares in Vinh Tan, Vinh Chau Town, Soc Trang Province, Tan Nam Shrimp Farm (Sao Ta Foods Jsc.) implements clean shrimp farming in ponds covered with tarpaulin based on the ASC standard. The first crop of this model in 2017 was a success for Tan Nam Farm. It is expected that the second crop will reach a total yield of more than 2,000 tons. Clean shrimps have the size of 40-50 shrimp/kg at a good market price can be sold at nearly VND150,000/kg.
Processing, Import and Export:
According to authorities of Ca Mau Province, last September, shrimp export value of the province was nearly $120 million. Since the beginning of this year, shrimp export brought to the province over $750 million, reaching nearly 70% of the plan and increasing 12% compared to the same period in 2016.
It is known that seafood exporting and processing businesses in Ca Mau are focusing on large markets such as the U.S. and South Korea. They are also preparing products for Christmas and the upcoming New Year. The industry targets to reach $300 - 350 million of output, and $1.1 billion of export in the fourth quarter of this year.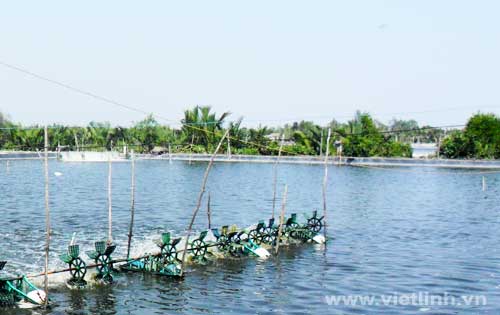 Livestock:
Recently, at the workshop "Managing farms based on Global G.A.P. standard" in Ho Chi Minh City, the Control Union Certifications (the Netherlands) has awarded a Global G.A.P. certificate to Anova Farm Jsc. (Anova Group). This is the first and only pig farm in Vietnam meeting the Global G.A.P. standard.
Anova Farm focused on closed production process. Specifically, sources of pigs are imported from the United States. It uses feed meeting Global G.A.P. requirements produced by Anova Feed Factory, and imports vaccine by Anova Bio Tech approved by WHO – GMP. The farm ensures pigs are raised in accordance with international standards on food safety, quality, and nutrition. With an internal traceability system, by applying QR Code and production management software such as ERP Oracle or Pig Vision, Anova Farm can manage types of feed, vaccines, and veterinary drug use in its farming process. The goal is to ensure safety and guarantees no banned substances or antibiotic residues used.
Anova Farm has two farms in Binh Thuan and Ba Ria - Vung Tau Provinces with a size of 2,400 sows, and 12,000 commercial pigs. Annually, Anova Farm sells more than 5,000 pigs for breeding, 55,000 commercial pigs for meat.
Plantation:
This season, many pepper farmers in Dong Nai Province expect to suffer from losses. The pepper market also shows no positive signs of development.
According to local farmers in Dong Nai, by looking at the low percentage of flowering in pepper trees, they predict an unsuccessful crop this year. The biggest concern of farmers is the unusual growth of their peppers. Instead of blooming flowers simultaneously, the trees bear fruits at different times, making some of them unripe and difficult to harvest. Pepper is now ranging only from VND80-85 thousand/kg, less than half of its price in same period last year.
Fruits:
After many winning years, this year, Booth avocado growers in Dak Lak Province might have to face losses because of a losing season, falling prices. From the middle to the end of March this year, at the time of Booth avocado could bloom at over 90%, there were unseasonal rains that reduced its flowering rate and caused damages to the crop. At the same time, Booth avocado price this year is very low, causing the losses even larger. Specifically, the price sold at gardens at this time is only about VND 40,000 - 45,000/kg. Early in the season, it was only VND30,000/kg compared to last year, the price was VND70,000 - 80,000/kg, or up to VND100,000/kg at its peak.
Booth avocado is a variety originated from America. It was planted in Dak Lak in the early 2000s and began to thrive in the last five years. This type of avocado has some advantages such as healthy growth, thick fruits, delicious taste, and later harvest time compared to other types of avocados. Dak Lak has more than 2,400 hectares of avocados of all kinds, including both monoculture and polyculture. Booth avocados are often intercropped with pepper, coffee and durian.
Farmers, Agriculture, Countryside:
According to the forecast of the Vietnam Fruit and Vegetable Association, in a near future, fruit and vegetable export will increase. Besides large export markets such as the U.S., Australia, and Japan, vegetables and fruits from Vietnam are looking for directions to enter the EU market. This information is provided at the workshop "Maintaining and expanding the export of fresh fruits and vegetables from Vietnam to EU," organized by the EU-MUTRAP project on October 9 in Ho Chi Minh City.
In the first nine months of 2017, Vietnam's fruit and vegetable export gained more than $2.6 billion, up 44.2% compared to the same period last year. Although EU is potential for Vietnam's fruits and vegetables, requirements for food safety of this market is strict. Currently, GlobalGap is the minimum standard for supermarkets in EU.
Pet, Flowers and Ornamental Plants:
After many years growing orchid, Tran Phi Cong in My Loc District, Nam Dinh Province has successfully established Hoang Vu orchid garden. It is recognized by the Vietnam Record Organization as the largest private garden in the country. Hoang Vu species is considered by the flower lovers as "the Queen of orchids" for its beautiful flowers and light fragrance. It usually blooms in Lunar New Year and can only be grown in Northern provinces. In 2007, Tran spent VND500 million to invest in orchid seedlings and his garden. After 10 years, the number of Hoang Vu orchid at his place is up to 2,300 pots; each pot has 30 to 40 stems.
By Sonia LV - Copyright © VietLinh