Weekly summary (April 9, 2018 - April 15, 2018)
Aquaculture:
Painted spiny lobster has been grown in Cam Ranh City, Khanh Hoa Province for about 5 to 6 years. It is gradually replacing ornate spiny lobster. Cam Ranh farmers focus on raising painted spiny lobster because it has many advantages compared to ornate spiny lobster such as stable price, affordable sources of juvenile lobsters (the highest price is only about one-fifth of ornate spiny lobster), short farming time and quick payback period of only about 8-12 months (compared to ornate spiny lobster at about 14 - 15 months). Sources of feed for painted spiny lobster is also easy to find and low cost (just 50% of feed price for ornate spiny lobster). The species is also less susceptible to diseases. Therefore, its economic efficiency is higher than ornate spiny lobster.
Although it is the time of farming the main crop, due to the scarcity of juvenile sources, the price of painted spiny lobster are rising; many farmers are waiting for their juvenile lobster to arrive. There are currently thousands of painted spiny lobster cages in Khanh Hoa Province, concentrated mainly in Cam Ranh, Nha Trang and Van Phong. Thus, the demand for juvenile lobster is increasing. Yet, farmers are now relying heavily on imported juvenile sources.
Processing, Import and Export:
According to the Ministry of Agriculture and Rural Development, in March 2018, the export volume of seafood was estimated at 158,000 tons, which was valued at $600 million and equivalent to March 2017. In the first quarter of 2018, seafood export was estimated at 441,500 tons, worth $1.67 billion, up 8.73% in volume and 11.2% in value over the same period last year.
Livestock:
Due to the changing weather, in the recent years, farmers in Ninh Thuan Province have to deal with drought to stabilize their production and overcome the consequences of natural disasters. "Living with drought" is very familiar to farmers in the province. Adaptive, anti-drought plans for livestock and plant development have been created by local farmers.
During the dry season, providing adequate food, water and disease prevention for livestock is an issue. With different solutions, farmers have tried to help and feed cattle during the dry season. It is known that Ninh Thuan Province has over 400 thousand cattle. Of which, the number of sheep is nearly 170 thousand, accounting for the largest proportion of cattle farmed in the region.
Plantation:
Cocoa trees are especially suitable for the climatic and soil conditions of Dong Nai Province. Before the 1990s of the previous century, the area of ​​cocoa in Dong Nai was estimated at 800 hectares. It was an important source of income for farmers due to stable consumption markets.
However, after the second half of the 1990s, cocoa trees lost their leading position. Without consumption markets, farmers started to cut and replace it with other crops. According to statistics, in 2014, the total area of ​​cocoa in Dong Nai decreased to about 71 hectares.
Currently, the area of ​​cocoa in Dong Nai is increasing to about 400 hectares. Although this figure is not equal to the previous number, it shows a significant growth of cocoa in Dong Nai. The whole area of 400 hectares is a part of the project "Large field linking cocoa production to consumption in Thong Nhat, Dinh Quan and Tan Phu Districts of Dong Nai Province." Dong Nai's cocoa is rated as world-class products with high butter flavor and special taste.
Fruits: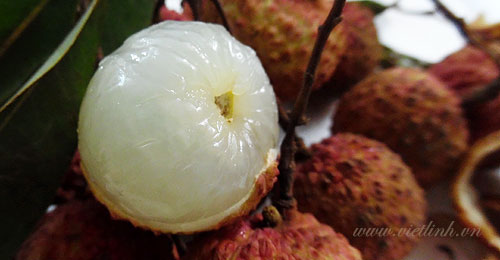 Lychee. The picture is for illustrative purpose only.
Due to favorable weather along with good technical application and farmers' intensive experience, this year, the rates of flowering and fruiting of longan and lychee are higher than many other years. According to experts and gardeners, from now until the end of the season, with stable weather, Hung Yen Province will have a successful crop of longan and lychee.
Hung Yen has over 3,000 hectares of longan and more than 500 hectares of lychee. They have been providing stable harvest and profit for many years. Gardeners' evaluation shows that from the end of 2017 to now, favorable weather facilitates the increasing percentage of flowering and fruiting in these two species compared to previous years.
Farmers, Agriculture, Countryside:
Currently, the use of cell phones and the Internet to find information on farming techniques and product consumption is common. This change occurs partly thanks to the effectiveness of a project funded by Google on improving agricultural workers' and farmers' abilities to use computers, smart phones, the Internet in farming and production.
In many farming areas of Bac Giang Province, people gradually eradicate old-fashioned and ineffective farming habits. Many applications connecting information technology to cultivation, breeding, and new varieties farming are used to bring higher economic efficiency. So far, the Bac Giang Farmers' Association has trained nearly 300 members in Luc Ngan District and Yen Dung District. It also established 18 Farmers with Internet Clubs. In a near future, Google will continue to support and maintain these clubs. Additionally, 9 more clubs will be established to expand the association's members knowledge of Internet usage in agricultural production.
Living and Environment:
Since the beginning of 2018, a muster of Asian openbill storks living in Gao Giong Cajuput Forest Management Area of ​​Cao Lanh District (Dong Thap Province) is increasing. Until now, more than 100 thousand individuals of Asian openbill are living here in an area of ​​ 30 hectares of forest. The Asian openbill (Anastomus oscitans) is a very rare species in the Red Book of Vietnam. In the world, it lives in countries in South Asia and Southeast Asia. In Vietnam, Asian openbill only appears in some localities in the Southwestern region. Previously, they came to find food and then flew away. Yet, nowadays, the muster nests and resides in this area. Gao Giong has a total of 1,600 hectares of forest, including 1,200 hectares of cajuput forest. It provides a fresh environment for different species with abundant sources of fresh water, feed, aquatic life and strict protection all year round.
By Sonia LV - Copyright © VietLinh