Weekly summary (August 7, 2017 - August 13, 2017)
Aquaculture:
Quang Binh Agriculture and Aquaculture Extension Center has implemented a model intercropping black tiger prawn, rabbitfish and crab. It initially brings high economic efficiency and opens a new path for local farming industry.
The model is implemented since the beginning of 2017 on an area of ​​3,000 m2 in Vo Ninh Commune, Quang Ninh District. The stocking density is 0.5 rabbitfish/m2, with a total quantity of 1,500; 15 black tiger prawn/m2, with 45,000 prawns total, and 0.5 crab/m2 with 1,500 of them total.
After about 5 months of implementing the model, in general, the species all developed well with the required criteria. The average weights are 200 grams each rabbitfish, 40 prawns/kg, and 200 grams each crab. According to the assessment, harvest of the model is estimated at over VND182 million. After deducting the investment costs, each household can earn over VND90 million.
According to the provincial Agriculture and Aquaculture Extension Center, rabbitfish, black tiger prawn and crab are species with high economic value, and are popular in the market. When applying polyculture, they will support each other and bring higher income instead of raising one species with a higher risk of loss. The model is suitable for regions without effective farming directions for a long period of time.
Processing, Import and Export:
The U.S. Department of Commerce (DOC) announced its decision to increase anti-dumping tax on shrimp exported to the United States between February 1, 2013 and January 31, 2014 to 1.42% instead of 1.16% as stated before.
Businesses importing shrimp to the U.S. have to deposit a down payment, from then, the tax will be deducted. The DOC conducts these activities on a regular basis to update and recalculate the taxes.
Shrimp export is an important element of Vietnam's economic background. According to a report by the Vietnam Association of Seafood Exporters and Producers (VASEP), shrimp export revenue of Vietnam was at $1.56 billion in early 2017, up nearly 16% compared to the same period last year. The U.S. was the leading export market of Vietnamese shrimp in the past. However, VASEP noted that currently, Japan is now the major import market.
Livestock: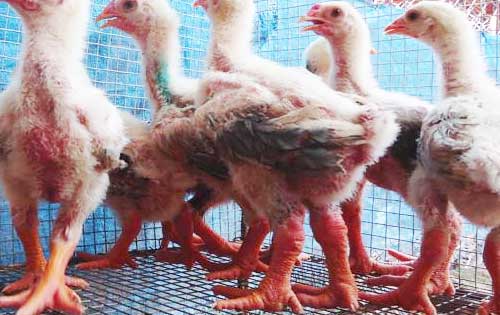 Dong Tao chicken. The picture is for illustrative purpose only.
Dong Tao chicken is very well known with high prices. Its rare, big, and dragon-like legs have helped Dong Tao chicken conquer many markets in the country.
With many efforts in developing the breed for high economic efficiency, Le Quang Thang in Dong Tao Commune (Khoai Chau, Hung Yen) has built a breeder farm with 300 Dong Tao chickens and 1,200 commercial chickens.
In 2016, Le sold over 8 tons of commercial chickens and 15,000 Dong Tao parent stocks. In particular, Dong Tao chickens with rare, beautiful looks are often selected for purchase as gifts and sold at VND5-10 million each. Le's sales of Dong Tao chicken in 2016 reached VND3.5 billion. After deducting all the costs, his profit was VND1.2 billion.
Up to now, the Association of Dong Tao Chicken Farming and Business in Khoai Chau District, Hung Yen Province has 2,000 members with a total of 1 - 2 million Dong Tao chickens. In 2015, Dong Tao chicken is recognized as a collective brand.
Plantation:
In recent years, epidemics on pepper trees have caused harmful effects, especially during rainy seasons, periods of high humidity and low light. Farmers need to be aware of this situation to prevent diseases and ensure productivity.
Bui Ngoc Hai in Nhan Dao Commune (Dak R'lap, Dak Nong) is one of the typical farmers growing peppers for years. His 2-hectare garden is nearly 20 years old, but is still healthy, green and stable, bringing 3-4 tons/hectare. While many nearby pepper gardens were damaged, his pepper trees are still growing healthily.
According to Bui, the rainy season is the most susceptible time for pepper to be exposed to diseases. Therefore, he usually forms airy spaces for the garden by trimming branches and create gullies for the flow of rainy water so that it will not be stagnant.
Also, applying fertilizer in the right techniques during rainy season will help plants easily absorb it, avoid waste, and protect sensitive pepper roots.
Fruit:
In Chi Lang District, Lang Son Province, sweetsop plantation has replaced dry, rocky land. It becomes a major farming product of the district.
From only tens of hectares to 1,500 hectares; from traditional production method with low output to farming with advanced techniques, safe sweetsop farming brings a yield of 15,000 tons/crop, generating a revenue of nearly VND300 billion for people here. These days, many people can earn VND200 to 500 million from farming this species.
Currently, businesses have learned about this farming region and reached out to farmers to establish a chain of plantation, consumption, and export development.
Farmers, Agriculture, Countryside:
With a breakthrough in growth rate, rice, vegetables and fruits have officially become key export products of agriculture, forestry and fishery with a turnover in the first 7 months of the year of $2.03 billion, up 48.9% over the same period in 2016.
In 2017, export turnover of agriculture, forestry, and fishery sets a growth target of 3.05% to reach $33 billion. In particular, the growth rate of plantation should be at least at 2%, livestock at 3%, aquaculture at 5% and forestry at 6.6%.
Living and Environment:
According to the National Center for Hydro-meteorological Forecasting, floods in the upstream of Mekong River can come earlier this year than other years, leading to a potential damage to Mekong Delta. It is likely that the flood season will peak in the first half of October, 2017 with an alarming capacity of 2 to 3, at an approximate level or even higher than previous years 0.1-0.3m. At this time, provinces in the Mekong Delta have developed plans to cope with floods while taking advantage of the flood season to produce, cultivate and exploit aquatic products that can increase farmers' incomes.
By Sonia LV - Copyright © VietLinh