Weekly summary (November 28, 2016 - December 4, 2016)
Aquaculture:
Although this time is not the main season, many households still stock and begin their intensive shrimp farming in Mekong Delta. Shrimp prices remain relatively high with a positive export situation. This makes farmers expect highly in this unseasonal crop.
Intensive unseasonal shrimp farming areas are common in the key provinces of Ca Mau, Bac Lieu, and Soc Trang. Because this time is not the main crop, raw shrimp is scared. Traders are seeking raw materials at high prices. Recently, shrimp prices have continued to increase and had no signs of slowing down. Many households, thus, still stock and start new shrimp crop with the hope to earn higher profit than other seasons.
According to statistics from locals, recently, shrimp farming areas have increased. Of the 19,500 hectares of intensive shrimp farming in Bac Lieu, although the main season has not come, farming land still accounts for 30-40%. Also in Ca Mau, in over 10,000 hectares of intensive farming (mainly shrimp), stocking and farming are currently being implemented in 3,500 hectares.
Processing, Import and Export: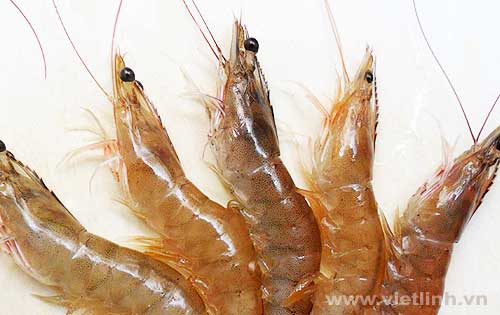 According to information from the Ca Mau Association of Seafood Export and Process (Casep), at the moment, the shrimp export value of the province reached $870 million, up 0.5% over the same period last year. It is expected that from now until the end of the year, businesses in the province will complete the plan of achieving an export value of $1 billion.
Export in 2016 flourishes compared to the previous year. In particular, at the end of the year, foreign countries are preparing for consumption in Christmas and New Year; thus, Vietnam's seafood export thrives. During the past months, the value and volume of shrimp export have increased.
Prices of raw shrimp from other countries are also as high as Vietnam's. Thus, businesses are not interested in importing raw shrimp. Prediction shows that the prices of raw shrimp will not decrease in the near future.
Livestock:
This year, the Ministry of Agriculture and Rural Development has instructed locals to organize the movement of saying no to banned substances. This includes commitments from farmers and livestock feed producers. So far, there have been 63/63 provinces and cities carried out the plan with a total of more than 500,000 households participating (the original plan included only 100,000 households).
In the last 4 months, the results of monitoring banned substances on a large scale by central agencies and localities showed that there was no Salbutamol detected in tested meat samples. Also in the past 11 months, the percentage of fresh meat with Salbutamol violation was 1.27%, lower than in 2015 (2, 53%). In particular, from July to October, authorities did not detect Salbutamol in meat samples tested.

Plantation:
Nguyen Huu Viet, living in Tan Ha, Lam Ha District, Lam Dong Province, currently has 200 macadamia trees intercropped with coffee in an area of ​​2.7 hectares. These are 7 years old and are being harvested in the 3rd year. During the 2015 harvest, the family earned an income from macadamia as equivalent to income from coffee.
After years of caring for the garden, according to Nguyen, planting and caring techniques for macadamia are simple, although they require good seedlings and thorough care. Macadamia trees grown in his backyard were planted in 70 cm x 70 cm holes.
Macadamia trees do not require a lot of care and harvest like coffee. They are, on the other hand, very beneficial for fertilizer and labor.
Nguyen also affirmed that intercropping macadamia does not affect the development of coffee. The yield is even better because of the double income both macadamia and coffee in the same area bring.
Not only Nguyen's family is successful with macadamia and coffee garden, but also many other families in Tan Ha, Lam Ha District also are very positive about the results of this model.
Fruits:
In Tan Trieu pomelo village in Tan Binh Commune, Vinh Cuu District (Dong Nai Province), this time is a busy season when pomelo farmers are fertilizing and caring for their crops to prepare for Tet – Lunar New Year Holiday.
In particular, dealers seeking exclusive, special products often stop by Ngo Van Son's pomelo garden, where there are many designs attracting people that Ngo created. For example, there are pomelos with wine gourd shapes and the map of Vietnam along with Paracel Islands and Spratly Islands.
According to Ngo, each of these grapefruit pairs will be sold for VND3 million in the market. Though it is not Lunar New Year, many people have ordered these fruits.
On the other hand, each pomelo pair with calligraphy letters of good fortune and wealth has a price of VND2 million. To prepare for the Tet market this year, Ngo also grows and cares for more than 200 pairs of this type.
With a 2-hectare pomelo garden planted in VietGAP standard, cared with organic fertilizers and advanced technology applications, Ngo can harvest 25 tons this season, and a profit of more than one billion Vietnamese dong.
Farmers, Agriculture, Countryside:
Thanh Chuong District, Nghe An Province has nearly 400 farms. Of which, 29 farms meet the criteria of the Ministry of Agriculture and Rural Development. About 13,182 households were awarded for their top sales and production with income from VND50-200 million/year. 83 households have income of VND500 million - 1 billion/year, and 10 households have income over VND1 billion/year.
Pet, Flowers and Ornamental Plants:
With 20 varieties of carnation flower imported from Japan, Vietnam Lac Farm in Da Sar Commune (Lac Duong, Lam Dong Province) plants and cares for its flowers with the guidance and direct supervision from Japanese experts. All flowers harvested will be exported to Japan.
50,000 carnation branches weekly harvested all meet the quality requirements for import to the Japanese market. The import has increased the revenue for each unit of land of Vietnam Lac Farm to VND3 - 3.5 billion/ha/year.
By Sonia LV - Copyright © VietLinh