Weekly summary (July 17, 2017 - July 23, 2017)
Aquaculture:
Shrimp farming in Quang Ninh Province is currently at the peak of its harvest season. This year, Quang Ninh has applied many models of farming with high technology, advanced process. As a result, the province achieves high productivity and yield. It can be considered that it has reached the highest increase in value compared to previous years.
Typical models include one conducted by Bui Ngoc Liem's household, Mong Cai City. The model is nearly 2 hectares with a yield of over 40 tons, and turnover of over VND6 billion. Deducting the expense, Bui's family earns nearly VND4 billion. According to him, the success is due to investment in a synchronous infrastructure system, active and timely solutions to weather, along with a specific plan for stocking to obtain the optimal price in the market.
The 2-hectare shrimp farming model of Nhat Long Jsc., Ha Long City, also has an average yield of 35 tons/hectare, which is the highest figure of the province. The unit has high stocking density. It implements a harvest after 2/3 of the farming time, and leaves the shrimp in a reasonable density for a larger size sold at a high price.
Processing, Import and Export:
UK is the largest importer of Vietnam's shrimp in the EU, accounting for 4.8% of total country's shrimp export to this market. Despite unstable recent political situations, shrimp import to UK from Vietnam still reaches a good figure.
In April and May this year, Vietnam's shrimp export to the UK increased by 62% and 150% respectively compared to 2016. This marked the total shrimp export to this market in the first five months of the year to nearly $59 million, a 34% increase over the first five months of 2016.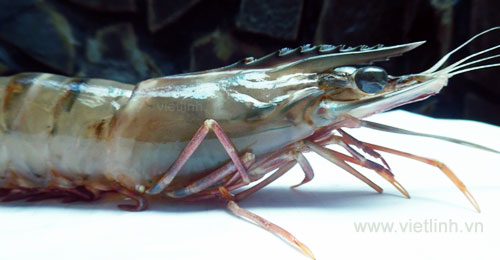 Livestock:
With more than 1.5 hectares of land, Nguyen Lan Anh's family in Bac Ha Town, Bac Ha District, Lao Cai Province has invested in building a black chicken breeding model in hilly garden that brings high economic efficiency.
From 1,000 chickens at first, thanks to farming in accordance to technology and disease prevention, they grow fast. Currently, the farm has nearly 4,000 chickens. The average selling price is from VND190,000 - 200,000/kg, bringing a considerable income to Nguyen's family.
The feed of black chickens are corn, rice, and other feed sources that ensure delicious meat and affordable investment for farmers. However, the farming time will have to last about 5 to 6 months.
Black chickens are rare with dark black skin and bones, tasty meat, delicious aroma, lower fat content than other types of chickens. The have higher value in traditional medicine, and thus, are favored by the consumers.
Plantation:
Currently, the rate of using hybrid maize in the production is nearly 100% with about 50 kinds of species provided by domestic and foreign companies in Vietnam. It is estimated that each year, Vietnam uses about 20 thousand tons of maize for farming production.
According to the Department of Crop Production, from 2014, Vietnam has approved genetically mortified organism (GMO), including GM corn, after conducting a comprehensive food safety and biological evaluation process.
At the end of March, 2017, the amount of GM corns imported to Vietnam was about 1,500 tons, equivalent to 100,000 hectares of farming. As of June 2017, the Ministry of Agriculture and Rural Development approved a total of 16 GM species in the country.
Fruit:
Dang Thanh Loc (Xuan Hung Commune, Xuan Loc District, Dong Nai Province) has turned a wild, unproductive land into a fresh orange and tangerine garden thanks to the application of high technologies. From planting to processing and flowering stages, with care, Dang's garden shows good results. At the start of the third year, the garden could be harvested. In the first crop with 1 hectare of tangerine, he harvested 10 tons of fruits. From the fifth year onwards, one hectare provides 20 tons or more of fruits with an average price of VND20 thousand/kg. At the peak, the price can reach VND25 thousand/kg. With 3 hectares, each year, he earns hundreds of millions of Vietnamese dong.
Good quality and quantity have attracted many traders to Dang's garden. He is also willing to share farming techniques to others to achieve economic efficiency from orange and tangerine.
Farmers, Agriculture, Rural:
In Song Cau Town, Phu Yen Province, due to unfavorable weather, the output of salt this year decreases compared to other years. In the first few months of 2017, unseasonal and prolonged rains caused a decline in salt yield. The scarcity of salt has resulted in high price at VND1.2 million/ton, up VND800,000/ton compared to last year. Clean salt is sold at VND1.5 million/ton, up VND900,000/ton compared to the same period last year.
Living and Environment:
Recently, people and forest rangers have identified a population of black-shanked douc in Chua Chan Mountain, Xuan Loc District, Dong Nai Province. The population is divided into 3 herds of about 30 total, with many pregnant or immature douc. According to rangers of Xuan Loc-Xuan Khanh District, the detection of black-shanked douc is new. This rare species is listed in endangered species group IB, which must be prioritized for protection.
By Sonia LV - Copyright © VietLinh