Weekly summary (June 19, 2017 - June 25, 2017)
Aquaculture:
"How to improve the value of Vietnam's shrimp" is the theme of the Seafood Roundtable held on June 21 in Can Tho city. More than 100 experts and representatives from breeding, feeding companies, associations and shrimp farmers from Mekong Delta have attended this event.
Shrimp is a major product in the Vietnamese agricultural industry. With an annual export turnover of over $3 billion, it creates about 2 million jobs and contributes to a stable socio-economic development.
In the context of international integration, shrimp farming in Vietnam has become the most potential in the agricultural sector with large output market, the ability to produce and expand breeding areas. In Vietnam, Mekong Delta is a convergence of favorable natural conditions for shrimp production, processing and export of the country.
However, an inadequacy of Vietnam's shrimp industry is small farming scale, which does not meet the needs for productivity and concentrated production to promote production chains. A paradox is that the expense for shrimp farming in Vietnam is always high compared to other main competitors such as India or Thailand due to high input costs. These issues have reduced business efficiency of Vietnam's shrimp industry. It is necessary to review planning, strengthen applications of science and technology to improve the value of Vietnam's shrimp.
Processing, Import and Export:
VietKings – Vietnam Records Organization has just announced "Top 10 famous Vietnamese gift specialties." The list is made up of results after one year of announcing nominations, launching a poll on Bepvang.org.vn - a VietKings's channel introducing culinary arts and specialties of Vietnam and the world.
Of the 10 specialties, Mekong Delta only has Ca Mau dried shrimp honored. Ca Mau dried shrimp is produced in many coastal areas of Ngoc Hien District and Tran Van Thoi District of the province. Fresh raw shrimp along with detailed processing of farmers here have helped Ca Mau shrimp become famous throughout the country.
Livestock:
Vietnam has exported frozen pork to several markets such as Hong Kong and Malaysia. In 2016, the output of pork export is about 11 thousand tons, and in the first five months of 2017, it is 10.6 thousand tons, or $46 million.
Because pork product is always guaranteed with high quality, food safety and hygiene, there are no shipment returned back to the producers. Vietnam's pork has created its own reputation in the world's market. For poultry products, there are 2 businesses registered to export chicken products to Japan; 5 establishments exporting egg products such as salted duck eggs, century duck eggs, canned quail eggs to some markets such as Hong Kong, Singapore, and Japan.
According to the director of the Department of Livestock Production, Vietnam's livestock products are highly potential for export. In the country, many large livestock businesses have built their closed production chains from animal breeding, animal feed and disease control such as Dabaco, C.P., D.K. The prices of products produced in such way are very competitive to those made in advanced countries in the world.
Plantation:
The group of herbal rice varieties includes species with high levels of trace elements, especially Omega. Currently, Quang Ninh Seeds Jsc. is researching 10 herbal rice varieties, including red rice ĐT 128 and black rice 135.
According to the analysis, vitamin B1 content in ĐT 128 red herbal rice is 78.5mg/100g, which is 88.28 times higher than traditional rice. Its Omega content is 9.39 mg/100g, 17.1 times higher than normal rice. Therefore, the use of products processed from herbal rice such as brown rice, Hong Huong Yen Tu green rice, rice milk, rice tea can prevent diabetes or obesity. They are very beneficial for cardiovascular diseases, anti-cancer, anti-aging and memory loss in the elderly.
People can also apply the tradition of Ying and Yang when choosing appropriate herbal rice. When the living environment is negatively changed, the human body condition becomes increasingly unbalanced. Thus, using herbal rice varieties is very beneficial for health.
Fruits: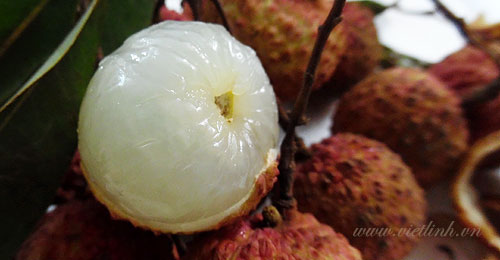 Lychee grown in Vietnam is favored by both domestic and international consumers. This picture is for illustrative purpose only.
According to information from provinces with large lychee areas such as Bac Giang and Hai Duong, longan crop in 2017 has significantly decreased yield due to the impact of weather. Although the output of lychee decreases, the quality is improved. Thieu lychee is especially produced under the VietGAP, GlobalGAP standards with top quality selected from gardens. This product has been exported to various markets, including difficult countries such as the USA, EU, or Japan. It is highly appreciated by local consumers with stamped product and clear traceability label.
Chinese traders have come to Luc Ngan District of Bac Giang to buy lychee. They cooperated with local Vietnamese to open 150 transaction places in the district. As a result, about 11,000 tons of fresh lychee was exported to China with a price of VND35,000-57,000/kg.
Farmers, Agriculture, Countryside:
In the past five months, the export value of vegetables and fruits was estimated at $1.38 billion, an increase of 38% over the same period last year.
China, the United States, Japan and South Korea are the leading importers of Vietnam's fruits and vegetables, accounting for 83.8% of the total export of these products. The markets that have strong export value of fruits and vegetables are the United Arab Emirates, Russia, Japan and China.
Today, vegetables and fruits of Vietnam have appeared in nearly 60 markets around the world. Particularly, fruits such as lychee, rambutan, dragon fruit, mango, and longan have entered into the fastidious markets such as the USA, Australia, Japan, and South Korea.
Pet, Flowers and Ornamental Plants:
In Buon Chuoi remote village (Me Linh, Lam Ha, Lam Dong Province), there is a flower billionaire who harvests thousands of lilies per week. The difference is that instead of growing flowers inside greenhouse, the farm plants lilies outdoors but still has good results.
It is Nguyen Van Duong's farm with 3 hectares of flowers, including one hectare of greenhouses. In the community of lily growers, he is famous for growing lilys outdoors without greenhouse for this species. According to Nguyen, lilies planted outdoors have the advantage of large, strong branches, thick petals, and brighter colors compared to those grown in the greenhouse. Particularly, in the recent Lunar New Year Holiday, Nguyen planted 500 thousand lily roots on the total area of ​​3 hectares. The harvest rate reached more than 80%, which is as productive as planting lilies in greenhouse.
By Sonia LV - Copyright © VietLinh