Weekly summary (October 17, 2016 - October 23, 2016)
Aquaculture:
Farming shrimp in ponds lined with canvas and net shows more advantages compared to traditional farming. This new technology is currently favored by shrimp farmers in Nhon Trach and Long Thanh Districts (Dong Nai Province). It has been developed and expanded quickly.
This shrimp farming techniques is transferred to farmers by C.P. Vietnam Livestock Corporation (Bien Hoa 2 Industrial Zone, Bien Hoa City). The business will continue to implement programs to support and replicate this technology for farmers in Dong Nai. It also concerns about the issue of consumption; thus, shrimp output is also ensured.
With only two shrimp ponds lined canvas covers of approximately 3,500m2, from the beginning of the year until now, Nguyen Truong Dai in Vinh Thanh Commune (Nhon Trach District) has harvested nearly 20 tons of shrimp. This brings him a profit of billions of Vietnamese dong each year. Nguyen said that with traditional farming ponds, he often farms only 50 breeds/m2. But, with canvas ponds, he can farm up to 200 breeds/m2. Thanks to the process of ensuring biosecurity, good selective breeding, the harvest size is usually 25-30 shrimp/kg, increasing the productivity 4 times higher than traditional method.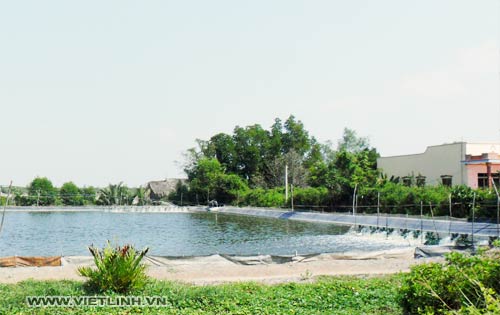 Processing, Import and Export:
In previous years, shrimp export shipments of Vietnam were only checked for the banned antibiotics. This year, the checklist of importing countries is expanded with criteria on heavy metals, toxins, which will bring difficulties for the export sector.
Since early this year, Vietnam's shrimp consumption has been increased due to the strong demand from the U.S. and EU, and the declined in supply of this product.
Vietnam is now the world's largest source of black tiger prawn as the demand of the U.S. and China is growing strongly. At the same time, some countries, such as India, are facing hardship in shrimp farming due to white spot disease. Black tiger prawn production in Bangladesh and Indonesia can also be reduced due to the impact of climate change.
Livestock:
Vinamilk is preparing to open the first organic dairy farm in European standard in Vietnam. The farm was built in Lam Dong Province according to the EU Organic Regulations (EC 834/2007 and 889/2008).
The original size includes 500 organic cows. Organic cows are farmed naturally with weather conditions and environmental similarities with Europe, an ideal land for dairy farms. In addition to living conditions, caring technology invested by Vinamilk is the most advanced technology today. It focuses on environmental friendliness and orientation towards sustainable development.
Currently, the organic dairy farm has completed the evaluation of European organic standards for pasture, dairy farm and processing plant. The evaluation unit for this farm is Control Union - the Netherlands, a global network testing laboratory activities and production.

Plantation:
A 2,300-m2, high-tech facility farming vegetables and spices was invested by Japan's Rrfarn Green Farm Company in Long Hau Industrial Park (Long An Province). It produces 300 - 400 kg a day (planned to be 800kg) at an average price of VND500,000/kg of vegetables. This facility does not grow vegetables on land like traditional method, but uses an artificial lighting system in a sterile environment.
Although the area vegetable production is large, the facility has only 7 workers. Most of the stages are handled by machines. To ensure unaffected dust, germs, workers' uniforms are also disinfected before they enter the factory.
The "super clean" vegetable here is edible even without washing right in the garden. Thus, the price is expensive. The consumers of these expensive vegetables are limited to restaurants, major hotels and embassies.
Fruits:
After years of researching and learning experiences from other countries, Vo Quan Huy in Hiep Hoa Commune, Duc Hoa District, Long An Province invested tens of billions Vietnamese dong to farming banana with high-tech applications.
Today, banana produced by his company, Huy Long An Ltd., Co. is not only favored by domestic consumers, but also available in many countries such as Japan, Malaysia, and Singapore. Vo is now known as a typical, excellent Vietnamese farmer for many years, and as a pioneer who helped Vietnamese banana enter international market.
Bananas in his farm are grown according to a clean, high-tech production method. A closed manufacturing process is applied from seed selection, harvest, packaging, to preservation. Bananas are watered by an automated system. They covered when bearing fruits to avoid pests and diseases that affect their quality. Vo's banana products are named Fohla (fruit of Huy Long An). In 2016, his banana farm reached an output of 4,000 tons.
Farmers, Agriculture, Countryside:
Agricultural production accounts for a large proportion of Vietnam's economic structure. Over 70% of the population is working in this field. However, the country's agricultural sector always faces many risks such as natural disasters and epidemics causing annual losses of about 1.5% GDP. Thus, agricultural insurance should be concentrated in the industry.
The Vietnam Bank for Agriculture and Rural Development (Agribank) and the Agriculture Bank Insurance JSC (ABIC) have collaborated to participate in the development of agricultural insurance to ensure sustainable development, the lives of farmers and social security. After 9 years of establishment, ABIC has successfully implemented the program of nationwide security credit. This helps both farmers and banks in the process of bringing agricultural capital to rural areas and farmers.
By Sonia LV - Copyright © VietLinh