Weekly summary (August 15, 2016 - August 21, 2016)
Aquaculture:
The project "Sustainable & equitable shrimp production and value chain development in Vietnam" (SusV) has been implemented in three provinces of Soc Trang, Bac Lieu and Ca Mau, and supported by the European Union (EU).
The total fund for the project is 2.5 million euros (about VND62.5 billion). Of which, 80% is funded by the EU; the rest comes from Oxfam and ICAFIS, co-sponsors and implementation unit of the project. It is expected to take place in 4 years, from 2016 to 2020. Small-scale farmers, seafood processing business, other actors in the production chain of shrimp farming, local governments and local community will be benefited from this project.
With objectives of promoting the application of p-SIA (Participatory Social Impact Assessment), B-EIA (Biodiversity Environmental Impact), ASC (a standard of Aquaculture Stewardship Council) and other standards for social responsibility for businesses. The project also helps farmers get access to financial supports and improve farming efficiency. Those include the application of new management practices and advanced production using natural resources such as energy and water. Besides, small-scale producers will be empowered to improve their roles in communication with the government and other actors of the value chain. The project will promote credit policies integrated sustainable consumption and production criteria.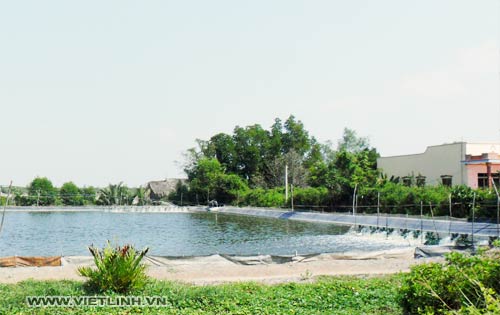 The picture is for illustrative purpose only.
Processing, Import and Export:
According to the Vietnam Association of Seafood Exporters and Producers (VASEP), Vietnam's seafood export activities currently are facing many difficulties.
In the EU, the requirement of labeling "Dolphin Safe" creates hardships for domestic businesses. In the U.S. market, "Dolphin Safe" requirement was issued on last May 21. Along with that, difficulties in export to this country come from its catfish inspection program in accordance to the 2014 Farm Act.
Businesses as well have to spend a lot of time to import shrimp to Australia, a potential export market for Vietnamese seafood. This comes from a strict policy that Australia has not recognized Vietnam as a country with disease free shrimp.
Accounting for over 50% of the total export value of the seafood industry, China also makes Vietnamese Tra fish face uncertainties. Since the last few years, China mainly has purchased selective raw materials with certain sizes of Tra fish with higher prices than the general price.
Livestock:
To improve the input quality of raw materials, as of now, Vinamilk has imported nearly 6,000 cows from Australia, New Zealand, and the United States. This enables the company to maintain the No. 1 position in the dairy market in Vietnam.
Vinamilk's representative said that these cows are thoroughbred Holstein Friesian breed; they give on average 8,000-10,000 liters of milk each cycle. The cattle imported were allocated to 7 Vinamilk farms.
Each cow has an electronic chip on the neck. This device regularly updates accurate information and statistics of the cow's health. The main computer system will then alert when there are abnormal parameters reported by those chips. Based on that, experts can give measures and effective treatments for cows.
In addition, the herds can listen to symphonic music every day. This helps them reduce stress, avoid the influence of oxytocin - a natural hormone of cattle which plays an important role in milk production, creates a positive effect on their brains and stimulates the feeding process.
Before milking, cows are washed and disinfected. Automatic milking systems and fresh milk selection of Vinamilk then ensure its products are always the freshest.

Plantation:
According to the Mekong Delta Rice Research Institute, since the Intellectual Property Law became effective in 2006, the Institute has protected 23 rice varieties with OM brand. At the same time, it has transferred the copyright or exclusive exploitation rights to companies and businesses for production, such as Loc Troi Group, Southern Seed JSC, Thai Binh Seed Corporation, and Vietnamese National Seed Corporation.
From 2011 to 2016, the Mekong Delta Rice Research Institute has transferred the copyrights of 10 rice varieties for exclusive exploitation and production. 3 varieties, OM 7347, OM 10 373 and OM 173 have been transferred exclusively in 2016. OM 341 and OM 373 are also expected to be transferred in 2016 to Nha Ho Seed JSC.
The Institute has also gradually built relationships with businesses and local authorities to attract more partners for rice varieties bred by the Institute. From there, farmers can be benefited and have access to different rice varieties with high productivity and quality to meet production requirements.
Fruits:
This year is a successful season of Hung Yen longan. It especially still maintains a stable price, which is equivalent to last year.
Khoai Chau, one of three famous districts growing longan in Hung Yen Province, is currently entering its harvest time. According to growers here, their longan crops were successfully ended although the yield could even be higher. Due to the impact of Storm No. 1, the total yield of longan in Khoai Chau District was decreased.
The district has a total of 1,600 hectares of longan with a total production of 18,000-20,000 tons. Currently, the price of good-quality longan sold in garden is VND40,000 - 50.000/kg; higher-quality longan is sold at VND25,000 - 30,000/kg, and those with medium quality are at VND18,000 - 20,000/kg. With longan grown with VietGAP standard, the prices are always higher than mass production's prices from 10 to 15%. On average, if longan is sold at VND25,000/kg, the total value it brought to the district is VND400 billion.

Farmers, Agriculture, Countryside:
With favorable soil conditions and natural location along the Saigon River, in the past few years, people in Tan An Ward, Thu Dau Mot City, Binh Duong Province have invested in and developed orchard along with ecotourism.
With an area of ​​about 175 hectares of fruit trees including rambutan, durian, mangosteen, strawberry, and other fruits, previously, many families in this area only grew and sold their products to traders. Yet, orchards in Tan An now have become favorable ecotourism for many tourists and visitors.
Every year, the time from May to August is the season of ripe fruits. This is also the season when tourists come to be with the fresh air of nature, rest in the gardens or enjoy the taste of different fruits.

Pet, Flowers and Ornamental Plants:
By the end of 2015, the total area of bonsai ​​in Sa Dec City, Dong Thap Province was over 470 hectares with over 2 thousand households, businesses participating, and more than 1,500 types of flowers. This was an increase of 157 hectares compared to 2010. To develop the flower village, the city has invested in 16 projects, and signed a memorandum on strengthening cooperation with the city government of Emmen, the Netherlands, in terms of economy, agriculture, and high-tech.
By Sonia LV - Copyright © VietLinh