Weekly summary (October 15, 2018 - October 21, 2018)
Aquaculture:
Shrimp farmers in Binh Dinh Province have successfully farmed two crops in 2018. Thanks to their compliance with the planned calendar, strict quarantine of shrimp sources, and good management of pond environment, shrimp in the province is disease-free. Its yield is also almost doubled compared to last year.
According to authorities, in the two crops in 2018, the whole province had 2,307 hectares of water surface used for shrimp farming. Of which the first crop included 1,870 hectares, and the second crop of the year included 2,437 hectares. As of the beginning of October 2018, the total shrimp yield harvested reached 5,240 tons, an increase of nearly 50% over the same period in 2017. The productivity of whiteleg shrimp farming is from 10 to 11 tons/hectare. This is the third consecutive year Binh Dinh Province has successful shrimp crops as most of the farming households could earn high profit from shrimp.
The prices of shrimp are also stable this year. The average price of whiteleg shrimp in the last two crops is from VND105 thousand to VND110 thousand/kilogram for type 100 shrimp/kilogram. Black tiger prawn is sold at VND260 thousand to VND280 thousand/kilogram for type 25 - 30 shrimp/kilogram. Thanks to these prices, many shrimp farmers earned a profit of hundreds of millions of Vietnamese dong.
Processing, Import and Export:
In September 2018, the export turnover of Vietnamese Tra fish to the U.S. market reached $47.12 million, an increase of 357.6% compared to the same period in 2017. In the first 9 months of 2018, Tra fish export to the U.S. market is estimated at $368.4 million, increasing 41%, and accounting for 23% of total export turnover of Vietnamese Tra fish.
With the growth rate as of September 2018, it is likely that the export turnover of Tra fish to the U.S. this year will reach approximately $500 million. Therefore, it is likely that in 2018, the total export turnover of Tra fish will reach or even exceed $2 billion.
Livestock: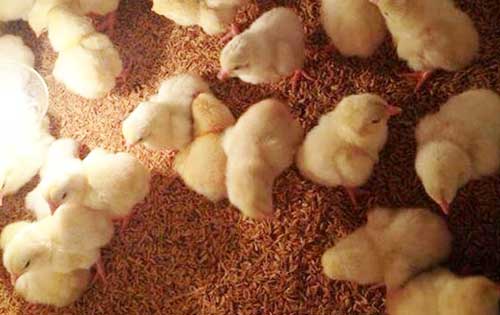 The prices of pigs and chickens are currently high. Thus, farmers increase their investments in these species. This is also the time when people prepare for the market demand of Lunar New Year 2019. Therefore, the price of piglets and chicks are constantly increasing.
Since last month, the price of chicks has been doubled compared to the previous months. People must also reserve a month before to buy chicks for farming. The reason is that the price of chicken is high these days, which make farmers increase their flocks to supply to the Lunar New Year market.
Plantation:
Binh Phuoc Province has more than 10,000 hectares of cassava. From the end of August until now, there are nearly 2,000 hectares of cassava infected with mosaic disease. The disease is currently occurring in districts with large cassava areas such as Dong Phu, Hon Quan, and Chon Thanh. It also spreads quickly to other places.
Mosaic disease is caused by Sri Lanka Cassava Mosaic Virus, which spreads through tobacco whitefly (Bemisia tabaci) and through seedlings. Thus, the virus can infect a large area of cassava rapidly. It reduces the yield and quality of cassava. In the worst case, the disease can even cause loss of profit.
To deal with mosaic disease, the provine's agricultural sector has guided farmers to delimit the infected areas, spray insecticide to eliminate tobacco whitefly, control the sources of disease, switch to farming other plants, and implement effective disease inspection.
Fruits:
These days, flood water appears in the areas of Long Xuyen Quadrangle, Dong Thap Muoi and the downstream regions. High levels of flood water threaten many fruit orchards in Mekong Delta. Thus, the agricultural sector, governments and farmers in these areas are focusing on combating flood water.
Over the past few years, the economic efficiency from fruit farming in the Mekong Delta is increasing. It helps many farmers in Hau Giang, Vinh Long, and Soc Trang Provinces earn high income. According to the Ministry of Agriculture and Rural Development, in the first 9 months of 2018, Vietnam exported more than $3.1 billion of fruits and vegetables, which was an increase of more than 17%. Of which, fruits grown in Mekong Delta areas play a key role.
Farmers, Agriculture, Countryside:
The Vietnam's Premier International Feed, Livestock, Aquaculture & Meat Industry Show 2018 (VIETSTOCK 2018) took place at the Saigon Exhibition and Convention Center (SECC, District 7) from October 17 to 19, 2018. The exhibition focused on "improving processing capacity and connecting potential markets for livestock and aquaculture products from Vietnam."
At VIETSTOCK 2018, more than 368 exhibitors from 46 countries such as Thailand, Korea, and China participated with their most advanced, comprehensive agricultural solutions, products, and technologies.
Pet, Flowers and Ornamental Plants:
Near the celebration of Vietnam Women's Day (October 20), the prices of flowers increased in Dalat, the flower capital of the country.
Accordingly, red roses were sold at VND5,000 each. The prices of white, yellow, and orange roses fluctuated at VND4,500 each. Other types of special colors such as light pink, light yellow, or chilli red can be up to VND6,500 to VND7,000 each flower. Thus, the prices of roses in Dalat were two to three times higher compared with other days in this occasion.
By Sonia LV - Copyright © VietLinh