Weekly summary of agriculture news from Vietnam (July 15, 2019 - July 21, 2019)
Aquaculture:
In the first 6 months of the year, Soc Trang Province has more than 35,200 hectares of ​​brackish-water shrimp farming. This area reaches 70% of the province's target. Of which, nearly 25,000 hectares are for whiteleg shrimp farming, including 8,300 hectares that were harvested with an output of over 37,300 tons. Despite that, the area of ​​shrimp farming damaged is 2,689 hectares. The causes of damage are environmental changes and shrimp diseases.
Particularly, most shrimp farming areas in the province apply the shrimp-rice model. Especially in My Xuyen District, there are ​​10,000 hectares of rice re-cultivation in ​​17.700 hectares of brackish-water shrimp farming; the percentage of rice cultivation area is about 55% of brackish-water shrimp farming area.
For successful shrimp-rice models, My Xuyen District focuses on sustainable shrimp farming solutions, cost reduction, and management according to seasons. The province also tests, introduces, transfers advanced and effective farming techniques and models to local farmers.
Processing, Import and Export:
According to the Vietnam Association of Seafood Exporters and Producers (VASEP), in the first 5 months of 2019, export of breaded shrimp from Vietnam to the US reached 4,281 tons, worth $30.9 million. This achievement is an increase of 53% in volume and 48% in value compared to the same period in 2018.
According to VASEP, Vietnam needs to invest in its production lines and making products with competitive prices. Breaded shrimp is a profitable value-added product. With an existing source of labor, exporting breaded shrimp to the US can be a reasonable plan for businesses in Vietnam soon.
Livestock: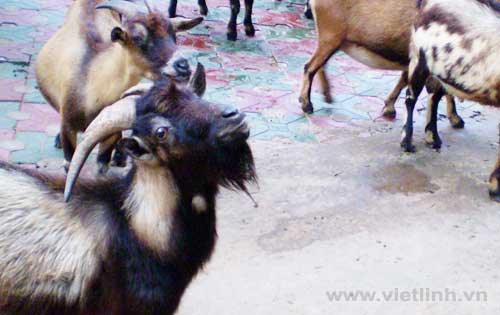 Since the last 1 month, the price of live goat in many Mekong Delta provinces has reached a record high of VND140,000/kilogram, an increase of about VND40,000/kilogram compared to the beginning of 2019.
The price of live goat type 1 is currently at VND140,000/kilogram, of goat type 2 is about VND110,000-115,000/kilogram. This is a record high price for many years.
The price of goat has significantly increased due to a recent decrease in the number of goats sold in this area. Also, the demand for goat meat increases sharply. Thus, goat price is likely to increase and maintain at high levels in the coming time. Especially when African swine fever virus in pigs is spreading, goat meat is an alternative and safe choice for consumers.
Plantation:
The Minister of Agriculture and Rural Development has just issued a document requesting localities to strengthen measures to prevent Prodenia in corn.
Local reports show that Prodenia appears and damages most corn-growing areas in the country with a total of damaged area of ​ 15,000 hectares. The worm causes serious harms especially in the Central Highlands and Northern mountainous provinces. It is forecasted that in the coming time, Prodenia will continue to spread and reduce corn yield without timely prevention.
In order to minimize the damage caused by Prodenia, it is necessary to instruct farmers to actively implement preventive measures according to issued regulations and technical process.
Fruits:
In addition to purple onion, Euphoria longan (scientific name: Euphoria Longana) has long been a key crop of Vinh Chau Town, Soc Trang Province. Currently, local farmers are harvesting their longan.
This year, thanks to favorable weather, longan trees bear fruits scatteredly. Thus, farmers can harvest at different times of the year. The price of longan this year is not only higher than last year but is also stable. Farmers are selling longan at gardens at over VND40,000/kilogram. Even at the beginning of the season, the selling price ranges from VND55,000 to 60,000/kilogram. The output is estimated to be over 1.2 tons/1000 square meter.
This is a positive signal from the market because the brand "Euphoria longan of Vinh Chau Town" has been increasingly affirmed. This success contributes to the restructuring of crops, promotes local advantages and increases farmers' income.
Farmers, Agriculture, Countryside:
Ben Tre Province's agriculture is shifting towards specialized farming with the application of advanced science and technology. The province also focuses on cooperation between production and consumption according to value chains for 8 of its key products: coconut, pomelo, rambutan, longan, durian, pig, cow and sea shrimp. In the field of cultivation, many farmers have actively applied new science and technology to produce high-quality agricultural products.
The whole province of Ben Tre has nearly 4,500 hectares of fruits and coconut trees meeting the GAP and organic standards. Typically, in Cho Lach, there are with more than 600 hectares of fruit trees applied good agricultural practices (GAP). In which, over 144 hectares have obtained VietGAP and GlobalGAP certifications.
Living and Environment:
The Government of Vietnam has just issued Decree No. 64/2019/NĐ-CP on criteria for determining species and management regimes for the list of endangered, precious and rare species prioritized for protection.
The decree stipulates 28 endangered plant species prioritized for protection.
The decree also adds a few endangered, precious and rare animals prioritized for protection. It brings the total number of endangered, precious and rare animal species from 83 to 99 species.
Pet, Flowers and Ornamental Plants:
According to the Aquarium Association of Tan Thuan Tay, Cao Lanh City, Dong Thap Province, it successfully launched the first bonsai mango shipment with 30 plants. They are priced at VND8 million to 10 million each.
In the past, people in Lai Vung District, Dong Thap Province succeeded with the model of selling mandarin pots during Lunar New Year. Others in Hanoi were able to earn profits by growing pomelos in pots. Nowadays, many households in Tan Thuan Tay and Cao Lanh City continue this success by growing mango trees in pots and make them become bonsai.
Besides mangoes, households here also grow familiar fruit trees such as guava, plum, breast milk in pots as bonsai.
By Sonia LV - Copyright © VietLinh