Weekly summary (January 9, 2017 - January 15, 2017)
Aquaculture:
This year, farmers farming lobster in cages in Cam Binh Commune (Cam Ranh City, Khanh Hoa Province) have a successful crop thanks to high shrimp price and low loss ratio.
According to Nguyen Van Quang in Binh Ba Dong Village, this year, despite adverse weather conditions, especially the prolonged flood or hot weather, farming lobster in cages in Cam Binh is still productive. His family mostly farms painted spiny lobster, with 55 cages of 16,500 lobsters. The money invested in feed and labor for 8 months was more than VND3 billion. Recently, he has sold most of shrimp for VND3.6 billion and earned more than VND600 million of profit. According to Nguyen, in the past, the price of lobster fluctuated. In June and July 2016, the lowest price fell at VND600,000/kg. After that, the price increased and is currently at VND750,000/kg. This price helps farmers earn high income. Some households can have an interest of VND5-7 billion while other small farms can also earn hundreds of millions Vietnamese dong.
As known, Cam Binh Commune has up to up to 4,600 lobster cages. During the last crop, farmers sold 200 tons of lobster. Currently, people are continuing their stocking for the new crop.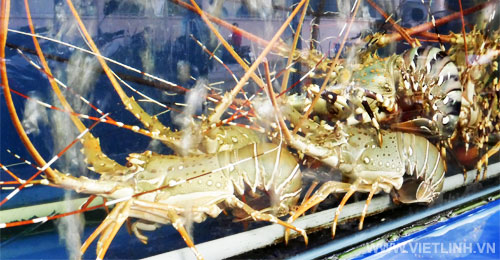 Lobster. The picture is for illustrative purpose only.
Processing, Import and Export:
In 2016, Tra fish export value was estimated at $1.66 billion, up 7% from the previous year and accounted for 24% of the total seafood export turnover of the country. Vietnamese Tra fish in 2016 also was available in 137 markets around the world, including the U.S. with the largest market share of 23%, China with 17%, and the EU with 16%.
Currently, Vietnam has more than 100 Tra fish production and export facilities, including 20 large enterprises accounting for about 80% of the whole industry. They hold 70-80% of the production raw materials. Therefore, these enterprises will be able to control to meet the demand of raw materials exported during this year and next year. Tra fish export in 2017 is forecasted a slight increase of 4% at $ 1.7 billion. In particular, the US market will still be the destination of export for 2 to 3 large enterprises while others will focus more on China, the EU, ASEAN countries and Russia.
Livestock:
According to the Dong Nai Livestock Association, pork price is decreasing significantly. Currently, farms are selling each kilogram of pork at VND28,000 to 30,000. With pigs that are 100kg or more, the price is only from VND24,000 to 25,000 each kilogram.
These rates are considered to be the lowest in the last 10 years in Vietnam. The decline of pork price unexpectedly was caused by the increase in number of pigs farmed and imported pork. Yet, the market demand did not increase, causing this situation of low pork price.
The price of pork in the past 2 years was relatively stable at a high level, especially in May 2016, the price was up to VND55,000 per kg. Thus, people rushed to invest in pig farming. Two years ago, Dong Nai Province only has 1.3 million pigs. This number is now risen to nearly 2 million.
According to farmers, pig prices fell sharply partly because the Chinese market suddenly stopped their purchasing. Reportedly, while there were about 3,000 to 6,000 pigs from Dong Nai exported to China. Yet, currently, only about hundreds are being exported each day.

Plantation:
By this time, locals in Dak Lak province have harvested about 180,000 hectares of coffee from the 2016-2017 crop. This accounts for 93% of the total area of ​​commercial coffee farming in the province.
Coffee growers estimated a reduction of 20% in production during this 2016-2017 crop compared to the previous year. On the last days of 2016, unseasonal rains occurred and caused difficulties in hiring labors. They affected the progress of the harvest.
In addition to hiring labors day by day, many households have to paid them by the harvested yield (about VND1,000-1,100/kg of fresh coffee fruit). Thus, their profits are reduced compared to before.
Currently the weather is sunny and hot again as local growers are continuing to harvest the rest of their coffee farms.
Fruits:
Lai Vung District in Dong Nai Province this year will supply to the Lunar New Year Holiday market about 30,000 tons of mandarin tangerine.
So far, adverse weather has caused a yield loss of about 5,000 tons of fruits compared to last year. However, this year, mandarin tangerines are large, beautiful with orange color that represent the occasion of the Lunar New Year.
At this time, traders have come and ordered gardeners at a high price, about VND25,000-27,000/kg, which is an increase of VND5,000/kg compared to last year. Reportedly, Lai Vung District has about 800 hectares of mandarin tangerine concentrated in Long Hau, Thang Long, and Vinh Thoi Communes. Lai Vung mandarin tangerine is especially a specialty of Dong Thap Province. It is the source of an annual supply to Ho Chi Minh City, Hanoi markets and other southeastern provinces on Lunar New Year Holiday.
Farmers, Agriculture, Countryside:
In 2016, Ho Chi Minh City has grown and developed plants and animals that bring high economic value from 30-40% such as vegetables (the average revenue was about VND800 million - 1 billion/ha/year), orchids (average profit of 2 billion/ha/year), dairy (size 20 dairy cows brings the average turnover of about VND800 million/year), black tiger prawn farmed in industrial scale (average revenue of about VND450 million/ha/year), ornamental fish (average revenue of about VND10-15 billion/ha/year). At the same time, high-tech agriculture continues to attract farmers and businesses for investments. The average value of the city in 1 hectare of land for agricultural production also reaches VND410 million/year, an increase of 9.3% compared to 2015, which was VND375 million/ha.
Pet, Flowers and Ornamental Plants:
Due to the effect of unusually hot weather in the final months of 2016, the volume of Tran Mong orchid flowers served for Lunar New Year Holiday 2017 of Sapa (Lao Cai Province) decreased. Yet, its price is higher than in previous years.
The price of Tran Mong orchid in gardens is now at VND600-700 thousand/branch. Beautiful pots with 40 flowers or more can range from VND1.5 to 1.7 million/branch.
It is estimated that at the flower festival this year, Sapa will provide to the market 7,000 Tran Mong orchid flower pots, less than the previous year about 3,000 pots. Because of this limited number, this species is currently hot in the market. Tran Mong orchid has many advantages such as long life and slight fragrance, which are suitable for rooms in houses and companies. They are always favored by the consumers.
By Sonia LV - Copyright © VietLinh