Weekly summary (September 17, 2018 - September 23, 2018)
Aquaculture:
After a declining period, the prices of black tiger prawn and whiteleg shrimp in Long An province have begun to increase since the last half month.
Currently, the price of black tiger prawn type 30 - 35 prawn/kilogram is purchased at VND180,000 - 200,000/kilogram. This is an increase of about VND20,000/kilogram compared with the previous half month. The price of whiteleg shrimp type 60 shrimp/kilogram is now at VND105,000 - 110,000/kilogram; of type 100 shrimp/kilogram is at VND86,000 to 90,000/kilogram, which is an increase of VND5,000/kilogram compared with the prices in early September.
According to the authorities of Long An Province, from early 2018 until now, the province has 5,291.4 hectares of brackish-water farming shrimp, including 776.8 hectares of black tiger prawn, and 4,514.6 hectares of whiteleg shrimp. The areas reach 80.2% of the targeted plan of 6,600 hectares, and are equal to 100.2% of the total shrimp farming land in the same period in 2017. Of this, 3,592.7 hectares are for harvest with the average productivity of 2.1 tons/hectares, and the yield at 7,404.7 tons. The price of shrimp is currently higher than previous months VND5,000 - 20,000/kilogram.
Processing, Import and Export:
On Sept. 14, the Food Safety Inspection (FSIS), an agency of the United States Department of Agriculture, proposed to the U.S. Federal Register to list Vietnam, China and Thailand as countries eligible to export Siluriformes fish and fish products to the United States.
The proposal announces that the FSIS recognizes the Siluriformes fish inspection systems in Vietnam, China and Thailand as equivalent to the U.S. system. The proposal was posted publicly and publicized within 30 days.
Vietnam, China and Thailand are currently exporting Siluriformes fish to the United States under the terms of an agreement on December 2015. The final rule of FSIS also establishing a mandatory inspection system for Siluriformes fish products (80 FR 75590).
If the proposal is approved by the U.S., Vietnam, China and Thailand will be eligible to export Siluriformes fish to this country. The rules attached to the proposal will be incorporated into the United States Code of Federal Regulations (CFR).
Livestock:
According to C.P. Vietnam Livestock Corporation, in order to contribute to the prevention of African swine fever (ASF), the company has supported the Department of Animal Health by providing reagents for realtime PCR and rapid test kit to identify ASF antigens.
The rapid test kit can be used as a salbutamol test set with a confidence interval of 90%. The result will be available after 5-10 minute of testing. The total value of the reagents and test kits is approximately $100,000.
At the same time, in order to actively prevent the disease, C.P Vietnam has invited experts with in-depth knowledge about ASF to train all of its staff members about the disease. The corporation also applies antiseptic measures in farming facilities and prints posters to inform farmers about ASF treatment.
Plantation:
After more than a month of reducing to below VND50,000/kilogram in all pepper growing areas, the price of black pepper has returned to the level of VND50,000/kilogram in many provinces.
Specifically, early this week, pepper price in Dak Lak is at VND50,000/kilogram; Dak Nong is at VND50,000/kilogram, and Binh Phuoc is at VND50,000/kilogram. In Ba Ria - Vung Tau, pepper price is at VND51,000/kilogram. However, in some locals, the price of pepper is below VND50,000/kilogram, such as Dong Nai (VND48,000/kilogram) and Gia Lai (VND48,700/kilogram).
According to the General Department of Vietnam Customs, in the first eight months of this year, pepper export reached 175,472 tons with a turnover of $584.181 million.
Fruits: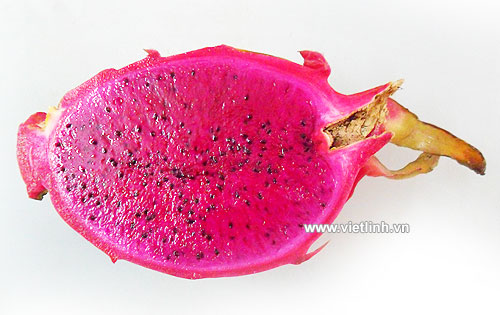 Dragon fruit with red flesh. The picture is for illustrative purpose only.
According to the Vietnam Trade Office in Australia, the first batch of dragon fruit with red flesh from Vinh Phuc Province was imported into Australia.
Earlier, Vinh Phuc's dragon fruit with red flesh was successfully exported to many countries in Asia such as Japan and Malaysia. However, it couldn't be exported to countries with strict requirements in Europe and Australia.
Therefore, the first batch of dragon fruit with red flesh imported into Australia is an initial test, and an opportunity for Vinh Phuc to market the fruit to a new country. This event is not only the premise to develop dragon fruit with red flesh in Australia, but also the key to bring this species to the U.S. and Europe.
Farmers, Agriculture, Countryside:
The exhibition of farming and processing technologies for agricultural, forestry and fishery products was held at the Tan Binh Exhibition & Convention Center in Ho Chi Minh City from September 19 to September 23.
The fair introduced safe, clean agricultural products with origins produced by domestic and foreign businesses. In addition, the exhibition presented post-harvest post harvest preservation techniques, machines and equipment for processing agricultural - forestry - fishery products. The fair was an effective bridge connecting producers, businesses and consumers.
Living and Environment:
Bach Ma National Park recently has release many rare animals back into the wild. Accordingly, the Bach Ma National Park Conservation and Development Center rescued seven pig-tailed macaques, wild pigs, forest tortoises, and red-shanked doucs back into the natural environment. These rare animals are endangered species in the Red Book of Vietnam.
After examination, the Center recognized that these animals were healthy and not wounded. They were released back into the wild.
Pet, Flowers and Ornamental Plants:
Many households growing apricot blossoms (Vietnamese mickey mouse plants) in Nhon An Commune, An Nhon Town, Binh Dinh Province are moving from traditional cultivation methods to safe plantation, which applies scientific and technical advances and focuses on environmental protection. The new method is suitable for a sustainable development of apricot blossoms.
There are 1,500 households planting Vietnamese mickey mouse plants in Nhon An Commune in a total area of 80 hectares. The annual turnover can reach about VND15 - 17 billion from sales during the Lunar New Year - Tet Holiday. In 2013, the trees grown in this region were certified by the National Office of Intellectual Property as "Nhon An's apricot blossoms." Up to now, there are 120 apricot growers in the commune registered to use this trademark.
By Sonia LV - Copyright © VietLinh