Weekly summary (April 24, 2017 - April 30, 2017)
Aquaculture:
2016 is the first year that Hoa Nghia Cooperative Board in Hoa Dong Commune, Vinh Chau Town, Soc Trang Province was introduced by the World Wide Fund For Nature to sign a shrimp consumption contract for 3 years with Soc Trang Seafood Joint Stock Company (Stapimex). Accordingly, if the farming does not include the use of antibiotics and meets the ASC standard (Aquaculture Stewardship Council standard), shrimp will be sold at the price of 10% - 15% higher than the market.
According to Hoa Nghia Cooperative, although it was the first year of implementation, the model has shown positive results, high success rate, less disease occurrence and reduced polluted water environment. From this success, as planned in 2017, Hoa Nghia Cooperative will increase the application of the model to 92 hectares with 29 participants.
In the past few years, the cooperative has stopped the use of antibiotics to maintain sustainable shrimp production. In an area of ​​27 hectares, each year, Hoa Nghia cooperative supplies about 50 tons of clean shrimp to the market with a profit of VND3-4 billion.
Processing, Import and Export:
Binh Thuan Province has 209 seafood processing businesses and establishments producing frozen, dried fish or fish sauce. The province now has many businesses exporting products to the US, EU, and Asia. Most of seafood processing companies here apply advanced quality management system such as HACCP and ISO. Chains linking stages from exploitation to purchasing, preliminarily processing to consumption, are also established. 100% seafood, fish sauce processing facilities here are also certified to meet food safety standards.
In 2016, the value of seafood export turnover of the province reached $131.5 million, up 54.7% over 2010.
Livestock:
The Ministry of Agriculture and Rural Development chaired a conference to find solutions for the pig industry when the price of pork in Vietnam is now the cheapest in the world.
Attending the conference were many large enterprises in the field of animal feed, livestock production such as CP Vietnam, Dabaco Vietnam, Masan, or Lai Thieu.
Assessing the endangered status of the sector, the Department of Livestock Production said that livestock production now is much more than consumption of the domestic market. In particular, pork items are facing huge market disadvantages. The price of pigs (average weight from 100-110 kg each) has dropped below VND28,000/kg; in some places, it has fallen below VND25,000/kg while there is no sign of stopping, especially during the summer months coming.
According to the Department of Livestock Production, this is the lowest price ever in Vietnam and also the current lowest price in the world. If this condition persists, most livestock producers and even large farm households will not survive.

Plantation: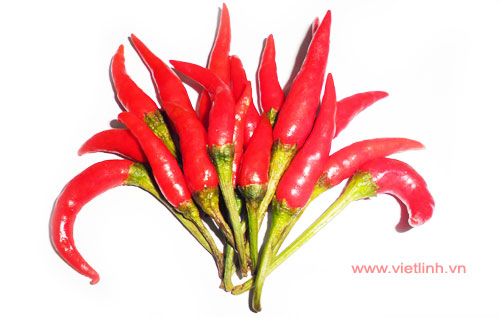 Chili can be a part of safe, natural pesticide. The picture is for illustrative purpose only.
Instead of using chemicals to control pests and diseases, many farmers in Anh Son District, Nghe An Province have made pesticides themselves by using environmentally-friendly herbs.
According to many farmers, it is not difficult to make this pesticide. They just need to prepare some ingredients such as garlic, chili, ginger and wine. After grinding the above ingredients, mixing them with wine and soaking in a container for about 10 days, the natural pesticide can be used. This solution can be diluted with water to spray on plants. The mixture can kill 85 - 90% of pests. The storage time of self-made pesticide can be up to 4- 5 months.
With many advantages compared to other pesticide products such as removing worms and harmful bugs, the effect of this type of pesticide can last due to the ability to eliminate eggs, young worms and adult worms without polluting the environment and water resources. So far, hundreds of farming households in the communes of Anh Son District have applied this method to their crops.
Fruits:
From now to 2020, Chau Thanh District, Hau Giang Province will plan to build a seedless lemon concentrated area in Phu An Commune in 250 hectares. Seedless lemon is now considered a competitive agricultural product helping many farmers increase income on the same farming land.
Phu An Commune has favorable climatic conditions and conditions for this fruit tree. At present, the commune has more than 71 hectares of seedless lemon. The commune is conveniently located near traffic roads, so it is easy to collect and transport products for consumption.
According to the plan, this year, Phu An will reduce the area of ​​mixed, ineffective gardens to expand seedless lemon cultivation to 100 hectares, and gradually to 250 hectares. The commune will also build a large lemon field in 50 hectares.
Farmers, Agriculture, Countryside:
Following rigorous evaluation, Vingroup (through VinEco) has selected 500 production households coming from well-known areas such as Lam Dong, Western provinces and some in the North such as Hung Yen, Vinh Phuc, Hai Duong, to collaborate and provide the business clean agricultural products according to its criteria.
In addition to its financial support, VinEco also organizes training programs to guild farming households toward safe vegetable production process. It will provide instructions on technical and seed support, quality control during production and pre-harvest time, buying and selling, helps in VietGAP certification and procedure.
In a near future, VinEco will continue to invest in equipment to apply traceability technology with QR code and ensure transparency of information on production sites and harvesting time. Consumers then can easily look up farming information in the program on their smartphones when needed.
Living and Environment:
Currently, there are many people in Vietnam are breeding aggressive ornamental fish. Although they are beautiful, expensive, and imported from foreign countries, they are classified as aggressive species. If they live in outside environment, they will be very dangerous for other indigenous species such as shrimp and fish. Lately, a farmer in Tien Giang Province caught an Arapaima gigas, a large and aggressive fish from the Amazon River, South America.
Species that are used as ornamental animals such as Arapaima gigas, suckermouthed catfish, stonefishes, or silver shark must be continued to hunt and catch in the wild to stop their reproduction. At this time, in many areas of rivers and lakes, the rapid growth of suckermouthed catfish has become a major threat because they not only disturb local ecological environment, eat other aquatic species, but also adversely affect aquaculture production. Therefore, it is necessary to control the entry and development of imported ornamental fish.
By Sonia LV - Copyright © VietLinh