Weekly summary (March 20, 2017 - March 26, 2017)
Aquaculture:
Farmers in Can Tho City are active in farming Tra fish certified with standards such as VietGAP, BAP, ASC, or BMP in 218 hectares. This figure accounts for 98.3% of the total aquacultural farms practicing food safety policies in the entire city.
Farming in standards is stable instead of increasing due to many factors such as the high fees for evaluations and certifications.
From the beginning of the year until now, the area of Tra fish farming in the city is 344 hectares, which is 78% of the total area in 2016. The harvested area is ​​62 hectares, and the output is 18,550 tons. The total area of Tra fish hatcheries is 244 hectares, with a harvested area of 43 hectares.
At this time, the price of raw Tra fish type 700-800 g/fish fluctuates from VND24,000 to 25,000/kg. Commercial Tra fish in the market increases VND5,000-5,500/kg compared to 2016.
Processing, Import and Export: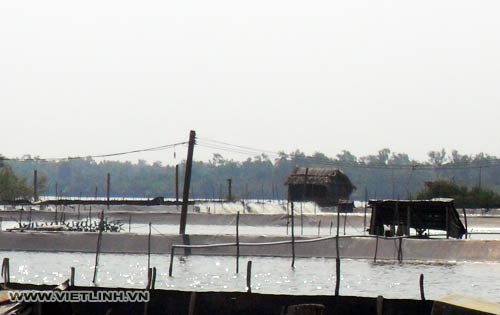 Ca Mau Province strives to produce more than 280,160 tons of shrimp and achieved an export turnover of $2 billion by 2020. These are the objectives of the project "Improving Productivity, Quality, Efficiency and Sustainable Development of Shrimp Farming in Ca Mau Province to 2020, with a Vision to 2030." These goals are also doubled compared to the current figures. Although Ca Mau has maintained its No. 1 position in the country in terms of area and export turnover for many years, shrimp farming in the province is facing many difficulties due to weather, epidemics, environment, and unstable price.
Livestock:
Dong Nai Livestock Association and AXIOM Group from France held a seminar introducing AXIOM Group and its high-productivity pigs varieties.
In the seminar, the group representative introduced several pig farming techniques, high-productivity pigs, and the import of great-grandparent pigs to Vietnam.
According to the the Dong Nai Livestock Association, the seminar is one of the activities contributing to the improvement of pig quality and competition in Dong Nai, along with the decrease of commercial price.
AXIOM Group is known as the No. 1 producer of great-grandparent pigs in France. Its major shareholders are large cooperatives in France and Canada. This group mostly researches pig varieties to provide for its members. Each year, AXIOM supplies about 200,000 pigs to the market, including 103,000 in France.
Currently, the group provides pig varieties and technical consultation to about 40 countries in the world, including Canada, Germany, Spain and Belgium.
Plantation:
Basalt red soil in the Western Highland is very suitable for perennial industrial crops such as coffee, rubber, pepper, and cocoa. Yet, whenever coffee prices fell, farmers tend to leave the crop and replace it with rubber or pepper. But, when the harvest of rubber and pepper starts, their prices fall deeply. This made farmers concerned when they have to decide whether to replace rubber and pepper with other crops, and which tree is appropriate.
A solution that the Western Highlands Agro-Forestry Scientific and Technical Institute (WASI) proposed is to intercrop fruits with coffee.
Experiment of the WASI showed that intercropping durian trees with coffee helped to increase income from 40-80%; intercropping avocado with coffee can increase income from 50-90%; growing coffee under other trees such as Cuban leadtrees or Siamese cassia can increase income by 40-120%.
Dong Nai Province, on the other hand, chose a plan for growing coffee trees with cashew. The province in its initial step collaborated with BamBoo Capital to develop the intercropping in 1,000 hectares in Trang Bom District. Without cutting down cashew trees but still planting more coffee, farmers here can add more value to a unit of farming land.
Fruits:
Thanks to transforming crop structure and improving low-quality land, Long My Town in Hau Giang Province has developed over 1,000 hectares of high-value fruit trees. Of which, there are 200 hectares of pomelo; tangerine is planted in 270 hectares; seedless lemon is farmed in 72 hectares while the rest is other fruit trees.
Long Trieu A Commune especially has the largest area of fruit trees with over 400 hectares. In the total area, there are currently 800 hectares bearing fruits. On average, each hectare of fruit trees can bring a profit of about VND500 million after deducting the expenses.
Farmers, Agriculture, Rural:
The XVI Festival of Delicious and Safe Fruit in Ben Tre Province in 2017 will have the theme "Ben Tre Fruit Trees on the Road of Development and Integration." The festival will be scheduled for 5 days, from May 27 to 31, 2017, in Cho Lach District. The festival will have many activities to introduce fruit trees, seedlings, flowers of traditional villages of the province.
Living and Environment:
Low water level of the Red River in the past few years has a strong impact on agricultural production and the daily life of people in Northern Midlands and Delta. Maintaining water level on the Red River at the lowest level of +2.20m to meet the demand is also difficult. In particular, due to low water level, some pumping stations in Hanoi area do not have enough water for agricultural production.
By Sonia LV - Copyright © VietLinh