Weekly summary (August 6, 2018 - August 12, 2018)
Aquaculture:
Sao Mai Group has put into operation Sao Mai Super Feed Factory, the largest and most modern aquaculture feed factory in Asia. With a total invested capital of VND1 trillion, the factory is expected to have a capacity of 390,000 tons per year in the first phase, and a doubled capacity in the second phase.
Currently, Sao Mai Feed is available in two types: complete feed for Tra fish and for fish with fins that meet the national standards TCVN 10300: 2014.
Sao Mai Super Feed has low FCR and competitive price. The feed will bring high profit to farmers once their fish are sold back to processing factories because of the guaranteed growth rate and high quality of fish. In the near future, Sao Mai Super Feed will have more product lines for marine fish, shrimp and other aquatic species.
Processing, Import and Export:
South Korea ranks fifth in terms of shrimp import from Vietnam. In the first half of this year, Vietnam's shrimp import to South Korea reached $190.4 million, an increase of 24% over the same period of 2017. Shrimp export to this market from 2017 until now maintains a high growth rate of two figures.
Since the Vietnam-Korea Free Trade Agreement came into effect, Vietnam's shrimp import to South Korea has achieved remarkable results.
However, in March 2017, South Korea issued a new regulation on heating requirements for steamed shrimp products that are imported. This regulation may increase the production cost as well as the selling price of shrimp products. It potentially reduces the competitiveness of Vietnam's shrimp products in the South Korean market.
Livestock:
According to the Vietnam Beekeepers' Association, since the past two years, honey production in Vietnam has decreased from 50 thousand tons/year to 30 thousand tons/year. Honey export prices have also dropped sharply in the past three years, from $2,000/ton to $1,300/ton.
According to experts, the color of Vietnam's honey does not meet the standards of fastidious markets. This is one of the reasons causing the declining price of Vietnam's honey compared to other countries in the world. Honey color especially changes depending on weather conditions and whether it is extracted from nectar or from foliage.
In general, the current low export prices are disadvantages for Vietnam's honey exporters and beekeepers.
Plantation: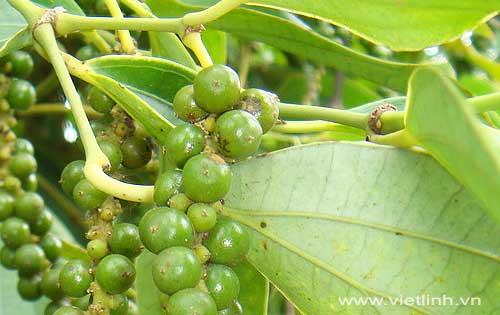 Currently, the price of black pepper in the Central Highlands of Vietnam is falling to VND48,000 - 49,000/kg, which is the lowest price recorded in the past 10 years. With the current price, many farming households producing black pepper might not earn any profit, and even have to face losses.
It is forecasted that from now until the end of the year, the price of black pepper in provinces in the Central Highlands will still be fluctuating. The unstable price will cause many difficulties and disadvantages for farmers.
For the last 5 years, provinces in the Central Highlands have rapidly expanded the unplanned black pepper areas. This situation led to a growth of nearly doubled of black pepper area compared to the initial plan of authorities. Currently, the Central Highlands is now having over 85,249 hectares of black pepper. Of which, Dak Lak Province has the largest area with 42,562 hectares despite its initial planning of having 15,000 hectares of black pepper by 2020.
Fruits:
There are nearly 3,000 hectares of sweetsops in Lang Son Province, mostly in Chi Lang District (about 1,600 hectares) and Huu Lung District (more than 1,300 hectares). Recently, Lang Son has taken many measures to improve the productivity and quality of this fruit.
At this time, growers in Chi Lang and Huu Lung District have begun to harvest and sell sweetsops to the domestic market. Sweetsops in this region will be stamped with origins to help consumers distinguish them. Local farmers and authorities also plan to export the fruits to China through official trade in the near future.
In 2018, Chi Lang and Huu Lung Districts will coordinate with many businesses to export Chi Lang sweetsops to Australia.
Farmers, Agriculture, Countryside:
Currently, there are about 3,830 livestock and crop farms in Dong Nai Province. These farms bring profits that are two times higher than other farms with the same areas of ​​production managed by local residents.
Sales of these farms in the first 6 months of 2018 were over VND8 trillion, accounting for 43% of the GDP of the agricultural sector. The average income of each farm in Dong Nai Province is now over VND4.2 billion.
Most of the farms are equipped with advanced sciences and technologies to improve the productivity and quality of products. In particular, some fruit farms growing tangerine, green pomelo, or orange can bring a profit of VND800 - 900 million/hectare/year.
By Sonia LV - Copyright © VietLinh