Weekly summary (September 11, 2017 - September 17, 2017)
Aquaculture:
In the first 8 months of 2017, shrimp post larvae production in Binh Thuan Province continues to develop. It ensures the supply to local farms and outside markets. The output of shrimp post larvae reached 17.747 billion, or 93.4% of the year plan. This was an increase of 11.1% compared to the same period last year.
Thanks to favorable weather, aquaculture of Binh Thuan Province also has a good growth. The area of ​​seafood harvested in the first 8 months of the year was 1,593 hectares, up 6.1% compared to the same period last year. Aquaculture production reached 7,761 tons, which was an increase of 6.2% compared to the same period last year. Of which, fish production reached 2,996 tons (up 6%), and shrimp output was 4,735 tons (up 6.3%).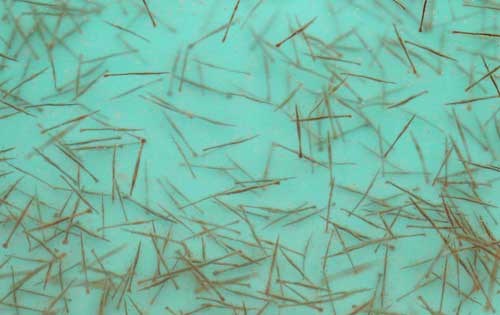 Shrimp post larvae. The picture is for illustrative purpose only.
Processing, Import and Export:
The Vietnam Association of Seafood Exporters and Producers (VASEP) issued a press release opposing the tax rate proposed in the preliminary decision of the U.S. Department of Commerce's (DOC) 13th anti-dumping duty administrative review for frozen Tra fish (swai) fillet from Vietnam. Previously, on September 13, 2017, the DOC announced results of the 13th period of review (POR13) for frozen Tra fish from August 1, 2015 to July 31, 2016.
Accordingly, in the preliminary decision of POR13, the DOC announced a tax rate of $2.39 per kg, which is three times higher than the tax rate in the 12th administrative review period. Of the 13 administrative review periods, this is the first time the DOC made adjustments without acknowledgement of the current legal basis and existing regulations.
Livestock:
Dong Nai Province is currently having only over 1.6 million pigs, a decrease of 200,000 pigs compared to the beginning of 2017.
The reason for this decline in number is the long-lasting low pig price. At this time, farmers continue to reduce their herds when the price of pork is only at VND29-32 thousand/kg. It causes a loss of VND4-6 thousand/kg to farmers.
On average, Dong Nai farmers provide about 6-7 thousand pigs per day to the market. Of which, more than 60% are consumed outside the province. Dong Nai is continuing pork export to Cambodia, Laos and China, but the quantity is not large. The province has the largest number of pigs in the country, with more than 60% of them are farmed.
Plantation:
In An Lao District, Binh Dinh Province, the price of areca palm in the last 5 years has increased annually, from VND5,000 to 28,000/kg. This year, as the Chinese market prefers pre-mature areca palm, traders only focus on buying and drying the nuts for selling. Each kilogram of fresh areca nuts can be sold at VND120,000/kg. Old, peeled nuts can be sold at VND35,000 to 40,000/kg.
An Lao has a large area of areca palm trees. Local residents here have a tradition of growing and eating areca nuts. Although its price this year increases sharply, authorities of An Lao District have advised farmers not to expand their plantation without planning, but intercrop areca palm with other trees.
Fruits:
Bac Kan is now having nearly 1,000 hectares of seedless persimmon, which is distributed in Ba Be, Cho Don and Ngan Son Districts, where the climate and soil are typical. Seedless persimmon is harvested before and during the Mid-Autumn Festival. Thus, it has good consumption and stable price.
According to local farmers, each persimmon with good care will provide an average yield of 100kg of fruits per crop. Each hectare can plant about 400 trees. With a selling price from VND20 thousand/kg, farmers can earn hundreds of millions of Vietnamese dong from each hectare.
From the maintenance of local variety for nearly 100 years with guaranteed quality, Bac Kan had its seedless persimmon granted the certificate of geographical indication in 2010. In 2013, Bac Kan's seedless persimmon was recognized to be in the top 100 most famous brands in Vietnam.
The province has 44 high-yield, good-quality persimmon seedlings in Ba Be, Ngan Son and Cho Don Districts. It built nurseries to provide about 20,000 persimmon seedlings annually, and maintain over 30 hectares of intensive farming. From 2010 to 2015, the whole province planted 555 hectares more, which increased the total area of seedless persimmon to 827 hectares. This fruit tree has become a branded product that brings high economic value to farmers in Bac Kan Province.
Farmers, Agriculture, Countryside:
Of the dozens of specialty produce, Hanoi has only 13 products having their trademark protection. To enhance their value, the city is actively promoting and branding these agricultural products.
Accordingly, the city selects, recognizes strengths, and builds brands for products of each region. For example, Dan Phuong District is building a trademark for safe, high-quality pork in Trung Chau Commune. Thanh Oai District also has many protected products such as Cao Vien orange, Kim An orange, Bo Nau rice, Boi Khe rice, Hoang Long safe pork, or Lien Chau duck egg. In addition, the district is continuing to promote Tan Uoc pork sausage. With branding and trademark protection, the values of Hanoi's agricultural products are increased significantly, from 20 to 25%.
Living and Environment:
Hurricane No.10 with the international name doksuri entered central provinces on September 15. The typhoon directly affected coastal area and land with strong winds from level 9 to 11. Near the center of the hurricane, the levels were up to 11 to 12. It was accompanied by high water levels and heavy rain on a large scale that caused huge damages to agricultural production and fisheries.
Pet, Flowers and Ornamental Plants:
In 1 hectare of land, Truong Thi Thu Huong in Nghia My Commune, Thai Hoa Town, Nghe An Province has invested in growing ancient roses such as Van Khoi and Sapa roses. In addition to their aesthetic values, these species also have high economic efficiency.
In Thai Hoa Town, this is the first model of ancient rose farming. For the past two years, Truong's family has provided a large supply of flowers for Northern provinces and cities such as Nam Dinh, Hai Phong, or Hanoi. One of the advantages of growing Van Khoi and Sapa roses is their drought tolerance. It can help them live up to 50 years with good care. The flowers are suitable with soil and weather in Northwestern area of Nghe An. Therefore, this is a basis for replications of the model towards the establishment of a flower village in Thai Hoa Town.
By Sonia LV - Copyright © VietLinh