Weekly summary (September 19, 2016 - September 25, 2016)
Aquaculture:
The greatest strength of Bac Lieu Province is shrimp farming, which accounts for 50% of the total natural area of ​​the province.
Annual shrimp production of the province is approximately 105 thousand tons, ranking No. 2 in the country. It brings a value of nearly VND11.5 trillion ($500 million) with different high-tech shrimp farming models of the Southeast Asian region.
Bac Lieu is also a shrimp breed production center in Mekong Delta and the whole country with a production capacity of 25 billion breed/year. It accounts for 50% of the Mekong Delta region and 19.23% nationwide.
With the goal of becoming the largest shrimp farming area and building a famous Vietnam's shrimp, the province aims to develop its agriculture with high technology and advanced science in production and farming. It has planned to build an "Agricultural Area of High-tech Applications and Development to develop Bac Lieu Shrimp" in ​​200 hectares in the first construction phase.
Processing, Import and Export:
According to the Ministry of Agriculture and Rural Development, it is expected that this year, shrimp export will reach a good result of $3 billion in value. This can bring the total seafood export of the year to $7 billion.
In addition to issues relating to anti-dumping duties on shrimp imported to the United States, the Ministy emphasized the expansions of other export markets.
Leaders of the Ministry also visited Australia to promote the export of shrimp to this country. It is expected that by November, Australia will visit Vietnam and start its inspection for shrimp exportation. This creates opportunity for the development of shrimp export in particular, and seafood export in general.
Livestock:
Farming all male Xiem ducks towards biosafety invested by Nguyen Thien An is one of the new models in Hiep Hoa Hamlet, Hiep Xuong, Phu Tan, An Giang Province. Farming in this method especially helps the ducks grow up fast without moving or cleaning cages, and affecting the environment. It also brings high economic value for farmers.
After many experiments, in 2011, Nguyen decided to choose duck farming towards biosafety. In the first season, he farmed 100 ducks. Realizing that the ducks develop quickly with high profits, he increased the flock into 600 ducks as of now. Nguyen explained that he chooses only male ducks because they have a larger weight and better meat quality compared to the female.
Xiem duck is a species with advantageous features such as they are easy to raise, grow up quickly, consume less food, have high survival rate and high economic value.
Fruits: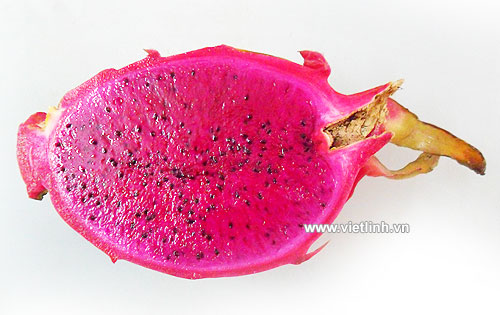 Dragon fruit. The picture is for illustrative purpose only.
According to the plan, the process of risk assessment for fresh Vietnam's dragon fruit will be completed by the Australian government near the end of this year. If this fruit is licensed, Vietnam will be the first and only current importer of dragon fruit to Australia.
As of now, Vietnam has been importing mango and lychee exports to Australia. Although the quantity is not large, it opens great prospects for fruits export from Vietnam to this market.

Plantation:
Arabica coffee grown in Cau Dat area, Dalat City is recognized as one of the seven most delicious coffees in the world by Starbucks. It is now sold in 21,000 Starbucks stores worldwide. The development and protection of the brand Cau Dat coffee, thus, are being implemented urgently by Lam Dong Province. However, coffee area here is being narrowed.
At an altitude of 1,500 meters above sea level, climate and soil in Cau Dat is ideal for the farming of Arabica coffee. Its production area includes 3,000 hectares in Xuan Truong, Tram Hanh Communes, and a part of Xuan Tho. However, at the present, farmers start switching to grow vegetables and flowers in a part of this area instead. Similar situation occurs in Tram Hanh Commune, which has more than 1,000 hectares of coffee. According to farmers, vegetables and flowers bring more profitable outcomes for them compared to coffee.
Farmers, Agriculture, Countryside:
For years, agricultural production in accordance with VietGAP, GlobalGAP standards is often reverse to the proposed process. Government usually supports farmers financially to encourage them to apply VietGAP, GlobalGAP, produce products and wait for opportunities from the market. Whereas, they can wait for the orders from traders first before farming and producing products. This is the reason why VietGAP practice at many localities developed as a movement then gradually reduced. Many gardens of vegetables, fruits especially are certified VietGAP, but there are not many VietGAP prestige brands in the market.
Pet, Flowers and Ornamental Plants:
The total farming area of flowers and ornamental plants in Hanoi is about 2,700 hectares. There are 50 centralized areas for production of 20 hectares or more each area. Since the last 5 years, flower species farmed have especially been changed; farming areas and quality have significantly increased. Lily and rose plantation accounts for 150 hectares each. The value of income from floriculture is improved and reached VND260 million/ha. In some places where high-tech applications are used, the income is more than VND1 billion/ha. However, flower production in Hanoi only meets 20% to 30% of the market demand. The rest 70% and 80% still have to import from other provinces, cities and abroad.
By Sonia LV - Copyright © VietLinh